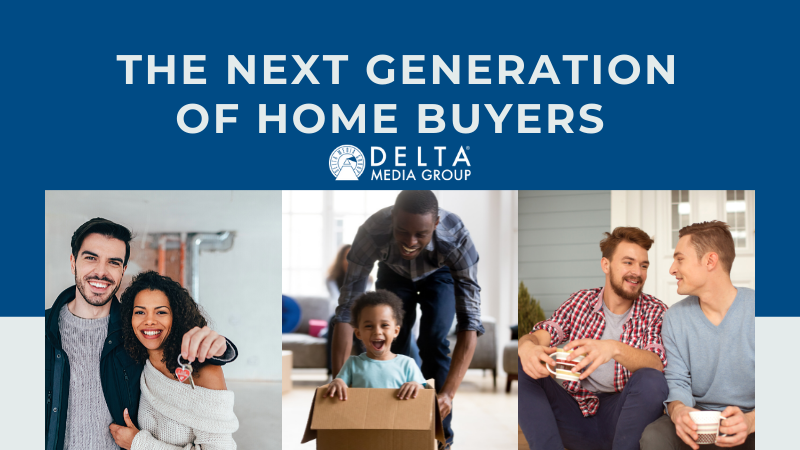 Millennials are still the largest, most active generation of homebuyers, but they are no longer the youngest. That distinction goes to Gen Z buyers, who are entering the real estate market for the first time and will represent a rapidly growing generation of buyers in the coming years. They count on real estate agents to help guide them through their first home purchase, which is why it's so important to learn what makes these young buyers tick.
The Newest Generation of Homebuyers
According to the latest data from the National Association of REALTORS®, Gen Z makes up about two percent of homebuyers in 2021 — but don't let that small number fool you. A few years ago, millennials were a small fraction of the market, and now they're the largest group of buyers. While they're adept at conducting general real estate research online, more than 90 percent of young buyers and sellers rely on their agent to guide them through the complicated process of purchasing their first home.
Gen Z homebuyers are very comfortable using tools like virtual tours and virtual open houses to research homes. Many of them have entered the market for the first time during the COVID-19 pandemic, so they've had no choice but to rely even more than usual on virtual tools. This generation of homebuyers is typically very active on social media and uses a wide variety of technological tools to stay in touch. They value home locations that provide a short commute to work, neighborhoods with plenty to do, and homes that they can grow into long-term.
From their agent, they want consistent communication, integrity, expert guidance, honesty, and attentive help with all of the details of closing the deal. With inventory low in many markets, they also count on their agent for help identifying homes that match their needs in their target neighborhoods. They value the experience that agents can provide during negotiations, especially in markets where most homes for sale generate multiple offers. So they're looking for many of the same things as buyers from other generations, but with the added needs that come with being a first-time homebuyer in an unprecedented time for real estate.
How DeltaNET™6 Can Help You Connect with Young Homebuyers
As the number of Gen Z homebuyers continues to rise, it's crucial to have the expertise to guide them through the process of purchasing their first home, along with the right tools to both earn their business and provide them with the best service possible. That's where DeltaNET™6 shines as a real estate all-in-one solution that helps you provide young homebuyers with everything they need to succeed.
Easily Keep Track of Client Needs and Data
As first-time homebuyers, your Gen Z clients will have different needs than those of more experienced buyers. At its core, your real estate CRM should be the perfect place to keep track of client needs, store key data, and have everything that you need available when you need it.


Simplify the Home Search with Virtual Open Houses and Showings
Gen Z buyers have become accustomed to using virtual tours, open houses, and showings to learn more about homes during the last year-plus. Even if they eventually visit their top-choice homes in person, virtual tools make it easier to narrow their list of options. So it's important to have a CRM that makes it easy to integrate high-quality open houses and showings.


Custom Content and Market Watch Reports Keep Buyers Informed
Position yourself as the local real estate expert with custom content that showcases your markets, keeps Gen Z homebuyers up to date on the latest trends, and helps them stay informed. Quality content builds trust, is great for SEO, and helps you connect with the many buyers who rely upon online research to learn about real estate.


Build an Online Presence That Attracts Gen Z Homebuyers
A reliable website that offers a seamless experience on all devices is crucial to connecting with all buyers and sellers, including Gen Z. Choose from dozens of mobile responsive themes and completely customizable website designs that showcase the best of your business. Integrate the features that buyers want most, connect your website with your social media presence, and make it easy for homebuyers to search through all of your listings with custom filters.
While Gen Z homebuyers have their own unique preferences and processes, they are ultimately looking for many of the same things from a home — and a real estate agent — as the generations of young buyers that came before them. With the right tools, the right approach, and a deep understanding of the latest trends in the communities where you do business, you can become a go-to resource for Gen Z homebuyers in your market.