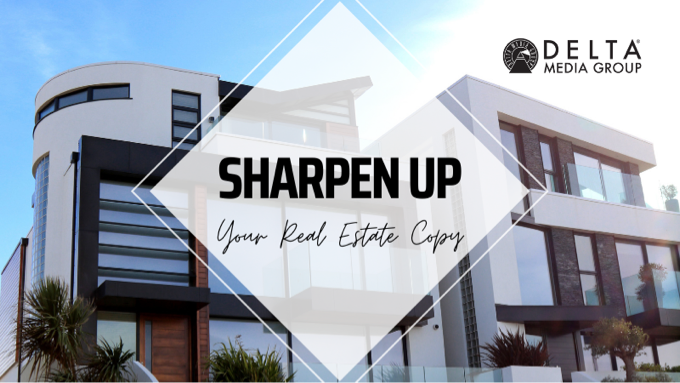 As a real estate agent, odds are you didn't pick this career so you could write the next great American novel.
But, just like marketing, writing is a skill that virtually all real estate professionals need to develop. In fact, you could find yourself writing several hundred words every month depending on your goals.
Don't worry — that's nowhere near as much as a full-time writer, who may need to put out 50,000 words a week to meet deadlines. But it is substantial enough that sharpening your writing skills will make a difference. After all, your ability to craft your real estate listings with the right words is one of the things that makes them so appealing. You have the opportunity to dazzle your visitors, capture attention, and engage all of their senses.
Often, this is the necessary first step before someone books a tour or registers with an open house.
Whatever the case, you don't need to have straight As in high school English to be an effective real estate writer. Even if you snoozed through Rhetoric & Composition in college, you can still bring your skills up to snuff.
After all, you won't be writing five-paragraph essays in real estate. Instead, you'll be conveying in words what you already understand about your ideal clients. If you know their interests, wants, and needs, you can reflect those in your word choices.
The same is true of anything you write about your brand and virtually any other topic. The question is this: how can you accelerate that learning process if you've never written actively before?
Getting Ready to Write: Tips to Put You in a Writing Mindset
Write with Your Purpose in Mind
Copy is writing with the purpose to persuade. When you create copy, you are trying to guide your leads from wherever they are now to the next step in buying or listing a home. With that in mind, the first thing to do is define your purpose. What do you need your reader to do next? Choose every word to further that goal.


Tell a Story About Your Listings
What makes a listing special? What details about its history, location, or features can you weave together to make someone say, "This is the one"? You might find yourself writing about what it's like to walk down the tree-lined street in the neighborhood or relax by the in-ground pool. All these details add panache to your story.


Include Sensory Details


Real estate is highly visual, thanks to all the wonderful photography. As a writer, you can also appeal to other senses. If a listing has a big yard, it might call to mind the crackling of meat on the grill, the smell of barbecue, or the sound of songbirds playing in the trees. This fires up leads' imaginations to make them think of home!
Technology Tools for Real Estate Agents to Up Their Writing Game
Spelling, grammar, and punctuation are not exactly the most interesting subjects. Even the vast majority of pro writers don't get energized thinking about them. They are simply a framework to help you communicate your ideas clearly. If any one of them is missing, it makes your copy harder to understand at a glance.
Once you have an idea, you need to execute it. These tools can help:
Writing can seem intimidating, but it doesn't have to be. Simply imagine that you're talking to a client face-to-face and you can go far. To learn more about using the latest digital marketing technology, contact us.