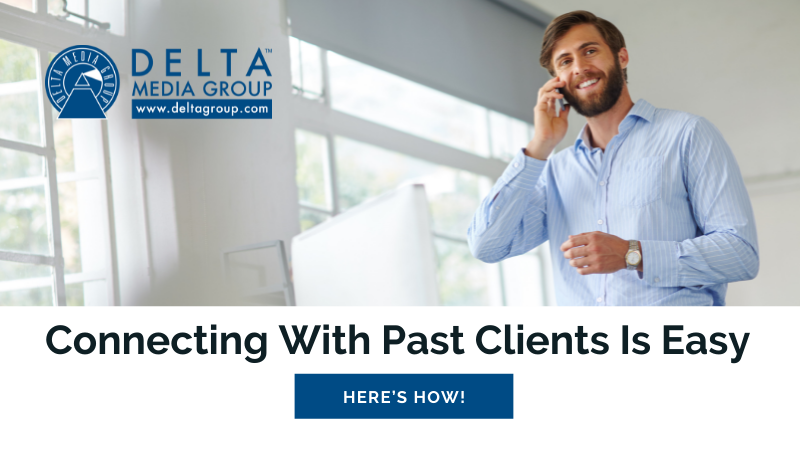 The National Association of REALTORS® reports that 75 percent of buyers say that they would recommend their agent to others. But even though they may have been very happy with the service you provided, their willingness to refer often fades as they move from buying a home into the next phase of their life. That's why it's so important to maintain that connection with past clients over time. Here are some tips to help you maintain relationships with past clients using real estate technology and generate reliable sources of new business in the process.
Staying Connected Starts with Your Real Estate CRM
The right real estate CRM isn't just a great option for generating and nurturing leads. It also provides valuable resources and tools for staying in touch with past clients. All of the information you gather over time can provide insights that make it easier to stay in touch with clients in a personalized way and give them reasons to refer you to others. Your CRM is also where you should find automated tools for staying connected and keeping past clients informed.
Keep Past Clients Informed with Email Newsletters and Content
Few tools are better than email for connecting with past clients. It's something that your clients check multiple times a day, it's unobtrusive, it can be automated, and it's an easy way for you to reach out at any time. There are so many different types of content that you can send via email, whether you're keeping past clients informed or simply finding excuses to say "hello."
For a client who has just purchased a home, you can send content that can help them transition to their new neighborhood and advice that helps them make the most of their new home. Home improvement tips and recommendations for local service providers can help them enjoy their new home. Neighborhood guides, advice on local attractions, schedules for local events, and information on the latest neighborhood happenings can all help them build deeper connections with their community.
By having a plan in advance for how you want to keep in touch with different types of clients, you can automate much of the email outreach process through your real estate CRM. On occasions where automation isn't the perfect fit, email templates make it simple to send personalized, meaningful messages.
Remember Their Special Days
Whether it's a client's birthday, kid's birthday, graduation, anniversary, or "house-aversary," remembering the special days of your clients goes a long way toward maintaining trust and showing them that you care. Your real estate CRM should provide tools for sending customized eCards and flyers, which you can use to celebrate any occasion. Of course, your CRM should also be where information on those special days is stored in the first place, so that you always have an easy way to remember the days that matter most to your clients.
Use Social Media to Build and Maintain Relationships
Social media isn't just for blasting out the latest info on all of your best new listings. It's also a great tool for staying connected with past clients and reminding them why you're the right choice when they're referring an agent to others. As you get to know a client, always look for common ground and keep a record of those commonalities in your CRM. Anything that can provide a starting point for conversation is valuable, whether it's a shared love of a local sports team, involvement in a community organization, or shared excitement about an annual local event. Investing some time each week in staying connected with past clients through social media goes a long way toward earning their referrals.
Remember That a Personal Touch Goes a Long Way
While technology is the main tool for staying in touch with past clients, sometimes a good, old-fashioned personal touch can make a big difference. A hand-written note certainly stands out in this digital age and shows that you have invested time in reaching out to a past client. A small, personalized gift can also be a great reminder for past clients, as long as it fits within ethical guidelines.
Connecting with Past Clients Is Easier with the Right Tools
Staying connected with past clients is important, but that doesn't mean that it has to take too much time from your busy day. The right real estate all-in-one solution, like DeltaNET®6, makes it easy to automate key marketing tasks, keep past clients informed, and remind them why you're the right choice for their (or their friends'!) real estate needs in the future. Mix in modern technology with old-fashioned touches like the occasional hand-written note, and you have a recipe for staying top-of-mind with all of your past clients.