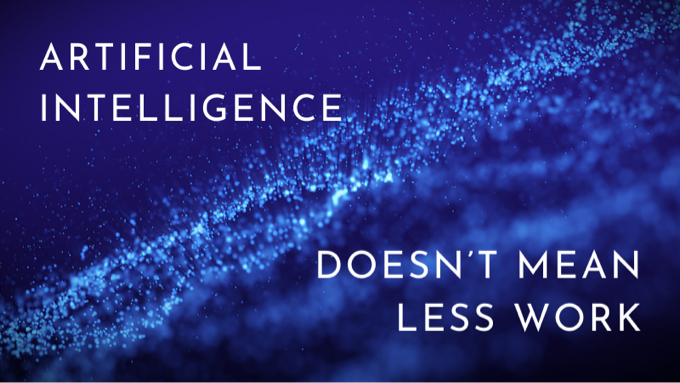 Artificial intelligence is no longer just a sci-fi fantasy, a dream of data scientists, or a catchy buzzword. The technology for AI has developed so much in recent years that it's quickly making an impact on — and potentially reshaping — nearly every major industry. Real estate is certainly no exception, with AI already making its presence felt in both subtle and obvious ways.
Does that mean that agents will soon be largely replaced by AI, with little work left for humans to do? Fortunately, you can take a deep breath, exhale, and know that your job is not in danger from AI. The truth is that AI in real estate can save you tremendous time on monotonous, repetitive tasks, allowing you to spend more of your working hours on the things that matter most.
Let's start with the basics. When we talk about AI in the present day, we're not talking about an all-seeing, all-knowing computer like you've seen in movies or read about in novels. Today's AI is designed to handle specific tasks in a fast, reliable, consistent way. Here are some of the ways that AI can lighten your workload on repetitive tasks and create more time for you to serve your clients:
Keeping Clients Informed
One of the ways that we're already using AI in DeltaNET®6

is to help you keep clients and prospects informed. With AI-driven email and print newsletters, you can easily keep your audience up to date on the topics that matter most to them. Create valuable, informative content and ensure that it always reaches the right person at the right time, without taking time out of your busy day.




Quickly, Conveniently Find the Documents You Need
What real estate agent enjoys digging through court records and spending hours searching for relevant documents? If you're the one agent out there who enjoys that process, we're sorry to break the bad news. AI can now help you search through millions of documents in a matter of moments, saving time for both you and your clients.


Creating Better Virtual Open Houses, Showings, and Tours
Digital tools like virtual open houses and showings, as well as virtual tours, have dramatically increased in popularity over the last few years. AI is partly to thank for this valuable real estate tech, which allows buyers to make informed decisions more quickly and creates new, powerful ways for sellers to market homes.


Identifying Homes Ready to Sell and Pricing Them More Accurately
Wouldn't it be nice to know with confidence which homes in your market are most likely to sell in the next year? AI can help you do just that, by analyzing market factors as well as factors unique to each specific home. In addition to helping you identify opportunities to win new listings, AI can also help you finish the job by pricing the home more accurately.


Segmenting Leads and Reaching the Right Prospect at the Right Time
AI excels at sorting through vast amounts of data quickly and reaching accurate, dependable conclusions much faster than we humans. Sounds like a useful skill for sorting through all of your leads, right? With the help of AI, you can more easily identify which leads are ready to pursue right now, which ones need nurturing, and which ones can be put on the back burner. Less time spent segmenting leads means more time to pursue the leads that are ready for action right now.
How Will You Invest the Time Saved by AI?
The examples above are just a few of the ways that AI can make life easier for real estate agents and dramatically speed up tasks that once took up far too much time. That means less work on the tasks that you probably didn't want to be doing anyway, but not less work overall.
Ultimately, the promise of AI in real estate is that you'll have more time to focus on the work that really matters. Think about every day that you've wished that there were just a few more hours to get done everything you needed to do. AI helps make that dream a reality without compromising on productivity or sacrificing your free time. All you have to decide is how to invest those hours that once went to tasks that can now be handled by AI.
The Future Is Bright for AI in Real Estate
One of the exciting things about AI is that despite the significant progress that's been made, we're still only scratching the surface of what the technology can do. The future is bright for AI integration in real estate, and we'll be sure to continue bringing you the best, most modern tech to help you thrive as a real estate agent.