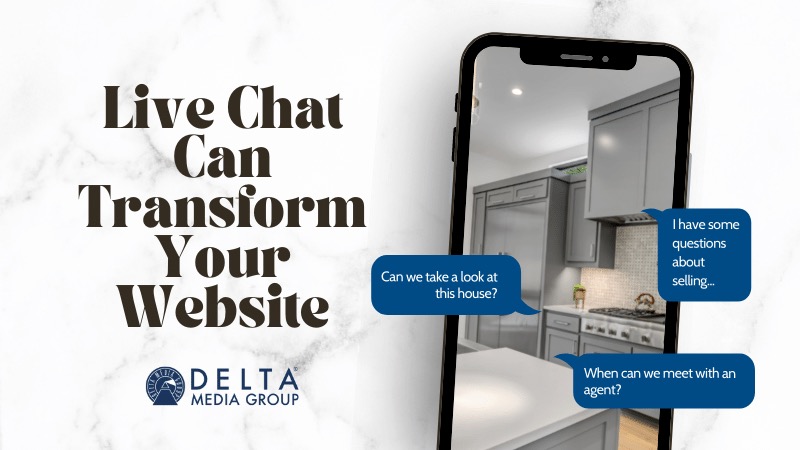 Are you doing everything that you can to connect with, inform, and convert the many prospects who visit your real estate website? Integration of a live chat feature can help you accomplish all of those goals and more while transforming the lead generation potential of your website. By providing instant, reliable customer support through live chat, you increase your appeal to the many prospects who expect to be able to handle the bulk of the real estate process online.
Still on the fence? Here are seven ways that live chat can boost lead generation, help your team connect quickly with prospects, and make the lives of agents easier in the process.
Build Instant Connections By Answering Key Questions
Your digital marketing and content can help answer general questions that prospects might have. But what about when they want to learn more about a property or have specific questions about the neighborhoods where homes are located? Live chat makes it easy to provide prompt, informed answers to those questions at a time when prospects are clearly demonstrating interest in your services.
Bring Listings to Life
Today's online listings contain a wealth of information, often paired with multimedia features that allow buyers to explore properties online in more depth than ever before. However, even the most robust listing can't cover everything, and discerning buyers will often want to know more about the little details regarding the home. When an agent can provide those details in real-time through live chat, the buyer has all the more reason to fall in love with the listing.
Turn Online Interest into Visits and Open Houses
While online interest is a great start, most buyers will still need an in-person visit to the property before they're willing to take the next step. Live chat provides a seamless way to progress from answering questions to scheduling buyers for a showing or open house. The buyer doesn't have to make an extra effort like making a call or sending an email, so live chat removes some of the obstacles that may normally get in the way of scheduling a visit.
Build Prospect Profiles and Get Valuable Data for Your CRM
Prospects aren't the only ones who can learn important information through live chat. These online chats are also excellent for learning what makes a prospect tick, what type of properties/neighborhoods they're interested in, and what they want from their real estate agent. All of this information can help you build a profile of the prospect, giving you the best possible chance to earn their business. It will also help you populate your real estate CRM with the data agents need to close the deal.
Give Your Team an Edge Over the Big Real Estate Websites
The biggest real estate websites, like Zillow and Trulia, make it easy for buyers to browse countless listings. However, live chat allows you to gain an edge by providing a level of personalized service that those websites can't match. At best, the big-name real estate websites allow buyers to send a message to an agent that will be answered later. With live chat, you can answer those questions right away, build connections through conversation, and encourage buyers to take the next steps at the moment they're falling in love with a listing.
Extend the Reach of Your Real Estate Team
More than ever, real estate is a global business, and in competitive markets, buyers are increasingly willing to make offers on homes that they haven't visited in person. This is especially true for buyers who are relocating to one of your markets from far away. They may conduct their entire property search online, or they may be willing to plan a trip only after being sure that the property is worth the significant time investment of coming to visit in person. Either way, live chat makes it so much easier to accommodate the needs of buyers who are shopping from a distance and convince them to take the next step.
Show Sellers That You Mean Business
While we've mostly focused on how live chat can connect agents with buyers, it's just as dependable for showing savvy sellers what you have to offer. After all, sellers have questions too, from marketing matters to fee structures. Just like with buyers, being ready to provide answers at the moment through live chat can help you earn their business.
Discover the Difference by Trying Live Chat
We can talk all day about the benefits of live chat for real estate, but there's no substitute for experiencing those benefits firsthand. Give live chat a try for your real estate website to experience the many ways that it can make life easier for your team and your clients.