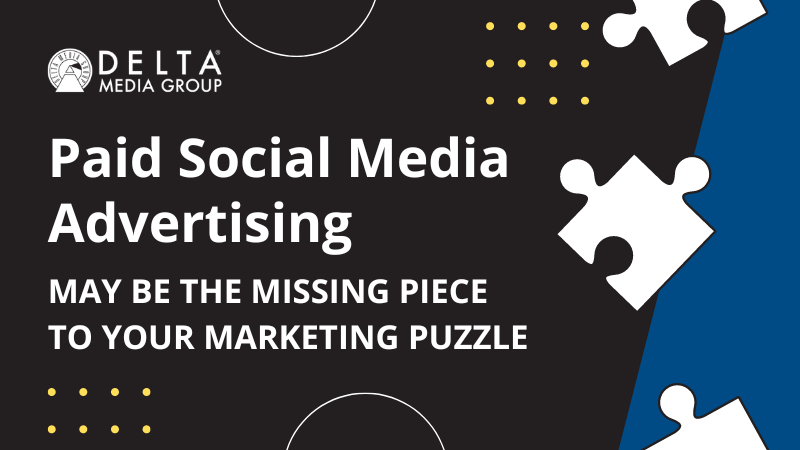 Is your marketing puzzle missing that one small yet important piece that can help take your business to the next level? Paid social advertising is one marketing tool that real estate brands of any size can integrate to generate leads, grow your brand, and expand your social media presence. Here's why paid social advertising may be the missing piece to your marketing puzzle, along with some tips to help you get started.
How Paid Social Advertising Works
One of the perks of paid social advertising is that you don't need a ton to get started. A great real estate website is a must, of course, because you'll want a place to send the people who see your ads, and you'll need to set up a business page on any social platform where you plan to advertise. As you plan a campaign, you'll decide on the campaign's objective and determine the target audience, budget, and length of time that your ad will run. Then you'll set up the details of the ad, including the headline, copy, and images. You can easily monitor the results of your campaign over time with data-based insights that allow you to customize your advertising with confidence.
Enjoy the Benefits of Highly Targeted Advertising
One key benefit of paid social advertising is how it allows you to target specific demographics and reach the prospects who will be most interested in what your real estate brand has to offer. You can build profiles to target specific demographics, promote listings to people who have already searched for similar listings, or target prospects who have already indicated some interest in your services online. These are just a few of the many ways that you can customize paid social advertising campaigns to suit your needs.
New to Real Estate Marketing? Paid Social Ads Can Expand Your Reach
When you're a new agent or real estate brand, you don't want to wait for results with your marketing. Growing your online brand organically with tools like SEO and content marketing takes time. Paid social advertising has no such limitation, making it a perfect complement to your organic marketing tactics. Paid advertising allows you to reach your target audience immediately, get your brand in front of the right eyes, and start generating leads from the time that you launch your first campaign.
A Dependable, Versatile Tool for Growing Your Brand on the Biggest Social Platforms
For paid social advertising in real estate, two platforms stand out above the rest. Both Facebook and Instagram are excellent places to promote your brand with paid advertising campaigns. The versatility of paid social advertising on those platforms allows you to reach diverse audiences, whether you're promoting listings, targeting local customers in specific markets, or simply establishing relationships with potential clients that you can nurture over time.
Planning a Campaign? Start with a Goal and Target Audience in Mind
When starting a new campaign, you'll want to consider a few important factors. First, what is the goal of the campaign? Naturally, the content of your ad will be different depending on whether you're promoting a listing, open house, webinar, client testimonials, or services for sellers. If you want your target audience to take a specific action, then your advertising should be tailored to that goal.
Next, you'll want to consider who you aim to reach. This includes broad categories like active buyers or active sellers, along with more specific audiences based on demographic details. Think about who you want to reach, what they want, and how to appeal to their needs as you customize your campaign.
Why Your Website Is Essential to Paid Social Advertising
Since one of the main goals of paid social advertising is to attract traffic to your real estate website, you'll also want to make sure that your website appeals to the needs of your target audience. Integrating resources for buyers and sellers is a great place to start if you plan to market to both groups. You can also create localized content and neighborhood guides to help your audience make informed decisions on where to shop for homes.
Make Your Life Easier with Ad Wizard and Pay-Per-Click (PPC) Advertising Services
Searching for an easier way to master paid social advertising? Our Ad Wizard tool makes it easy to create, customize, and launch campaigns with as little as a few clicks in DeltaNET®6. With templates, customizable ad layouts, stock art, and a wide variety of ad types, you can launch your next campaign with ease. Or you can rely on our team of PPC advertising pros to help you develop campaigns that maximize ROI. Either way, you don't have to worry about handling all of the details of paid social advertising on your own.