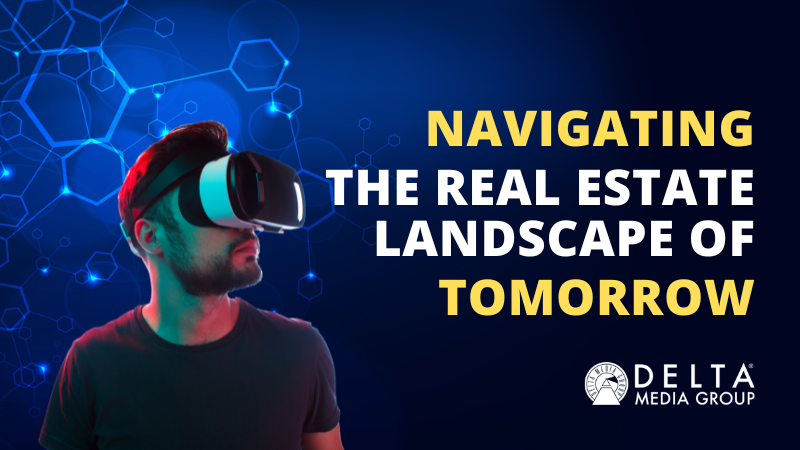 The real estate industry has evolved at an even faster pace than usual in recent years, with new technologies emerging that change the ways that both agents and clients conduct business. The online component of real estate transactions is more important than ever, and in some ways, we're already getting a taste of what the real estate industry of tomorrow will look like, from automated, AI-driven marketing to innovative new ways to experience properties online.
While surprises are inevitable in real estate, we already have some ideas about the ways that the real estate landscape of tomorrow will impact agents. Here are some of the tools in DeltaNET®6 that will help you navigate that landscape with confidence and plan for a successful future in real estate.
How Virtual Reality Will Help Buyers and Sellers
Over the last few years, we've already seen the rise in technology that helps buyers experience homes in great detail without ever visiting in person. Virtual Open Houses and Showings help buyers tour homes from afar, often with an experienced real estate agent as their guide. Tools like our Properties in Motion make it easier for buyers to fully experience properties online in ways that listing photos and descriptions can't match.
Given the popularity of these tools, you can expect the virtual aspect of touring homes to grow even more robust in the years to come. Buyers love it because they can tour homes no matter where they're located and get a meaningful impression of what the properties are like. Sellers love these tools because they increase the potential buyer pool, create more competition among buyers, and ultimately help them sell their homes for the best possible price.
AI-Driven Marketing Makes Life Easier for Agents
Technology isn't just making life better for clients. It's also making it easier for agents to market your services, build trust, and keep your audience informed on the topics that matter most to them. Already, we offer AI-driven email and print newsletters that make it easier to keep your audience up to date on the real estate data they crave. Our auto-generated My HomeFinder, Market Watch, and Seller Reports allow you to inform and engage every segment of your audience. With automated, AI-driven marketing, you'll be free to invest more of your own time in serving current clients, while still keeping your pipeline stocked full of leads.
Simplifying Lead Segmentation and Nurturing
Getting your foot in the door with a potential client is a great start, but generating leads is just one step in the process. Most leads will take some time to convert, which is why tools like smart drip email campaigns are so valuable for agents. These campaigns make it easier to nurture leads over time, with automated, targeted, timely content that appeals to their specific real estate needs. Automated lead segmentation, another tool that you'll find in DeltaNET 6, is also key to this process. Automatically segmenting leads makes it easier to know exactly where each leads stands, and which leads to prioritize. Interactive lead visibility adds another layer of real-time data that can help you convert leads into clients.
Integrated Technology Puts More Tools at Your Fingertips
New technology is constantly emerging in real estate, so being nimble is essential. It's much easier to keep up with the latest tools and put them to work when you can access everything in one place. DeltaNET®6 features integrations with dozens of partners that make it easy to do everything from market your real estate brand on YouTube to set up secure document signings for client who are ready to close on a home. 
Making the Most of Your Technology with Learning and Support
Even for tech-savvy agents, keeping up with all of the latest trends, tools, and technology can be a challenging task. Having access to the right training – whether for yourself or your team – is a critical step in adapting to the future real estate landscape. DeltaNET Academy allows you to plan courses, highlight specific tools, provide supplemental training to your team, and track results, all at no extra cost to you.
Be Prepared for Tomorrow with Technology That Adapts to the Times
Preparing for the future starts with choosing the right technology in the present, and with an all-in-one real estate solution like DeltaNET®6, you'll find the perfect platform to help you keep up with the times. So much of what we've mentioned in this article is already possible with the reliable tools in DeltaNET®6, and we're always adding new features to help you adapt to the changing real estate landscape. Why wait for tomorrow, when both you and your clients can benefit from the best real estate tech today?