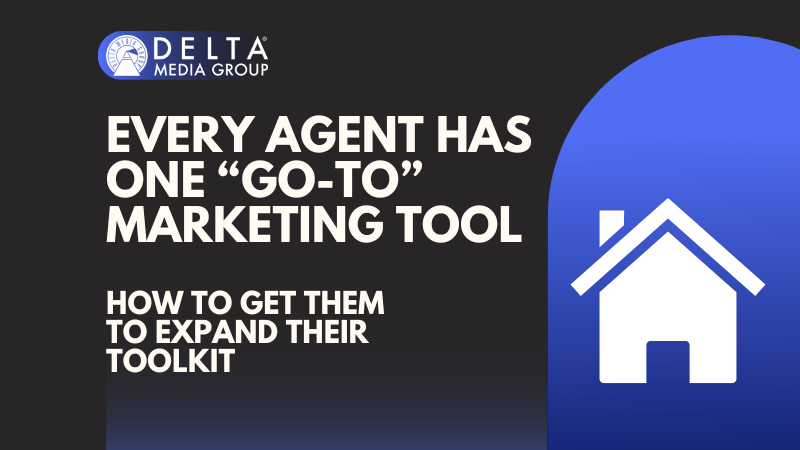 At its heart, real estate is about relationships. It's a marketing occupation. Agents are tasked with communicating the facts, supporting informed decisions, and ultimately, stirring customers to action.
Not all agents are "born marketers." Real estate consistently ranks as the #1 second career in the United States. People join from all walks of life, but each is tasked with the same challenge: learn how to get through to their customers and motivate and inspire them.
It should come as no surprise that most agents have a few tried-and-true marketing methods they go back to time and time again. These methods usually represent the first few things that worked for them when they were new to the industry.
At the very beginning, some agents are anxious about marketing their services. Others aren't but consistently find other priorities to focus on. That means agents can proceed far into a career without developing a versatile base of marketing tools.
Getting Agents to Adopt New Marketing Tools Can be a Matter of Perspective
There's always something new to learn in real estate. And once someone has plenty of leads, active transactions, and former customers to stay in touch with, they need to prioritize that all.
Under these conditions, many agents leave marketing on the backburner. But marketing isn't a "nice-to-have," it's a must-have. It extends a brand's reach in the community and helps ensure the people you help understand just what you can do for them.
Ideally, all agents within a brokerage would be contributing to the marketing strategy in some way. But that doesn't mean that every agent needs to embrace all the bits and pieces of marketing. On the contrary, it simply means they should expand their existing specialization – taking one step out of their comfort zone.
After all, marketing is most effective when it's consistent. If an agent tries something new but doesn't stick with it, it won't make a dent. They won't have opportunities to see real results, and that time is as good as wasted. But it doesn't have to be that way.
Marketing automation technology makes the whole prospect easier. Even agents who've been stuck in a rut when it comes to their marketing endeavors can turn over a new leaf when they see just how easy automated real estate marketing can be.
With the right technology in play, you never have to worry about starting from scratch with marketing. Something that seems complex, like email or social media marketing, can be distilled into simple steps that take only minutes a day rather than hours.
Plus, once you've begun to experiment, it's much easier to see what's working and what's not. Digital marketing provides you with the powerful advantage of clear, comprehensible data that always tells you what resonates with your audience. That helps you make the most of your valuable time.
Modern Real Estate Marketing Automation is Straightforward and Approachable
Your real estate agents are already doing their best to manage their time and optimize their efforts. To get them excited about new marketing approaches, you need to offer them a new perspective – one they've never considered before. That's precisely what Delta Media Group® technology does for you.
Combining thousands of hours of work with input from agents and brokers all over the United States, Delta Media Group designed the world's first Customer Relationship Management suite built entirely around the unique needs of the real estate industry.
Customer Relationship Management aims to provide full visibility into your network, including leads, customers, and past customers who might use your services again. But our solution goes a step further by incorporating artificial intelligence for marketing automation.
With marketing automation, it only takes about an hour to set up an all-new marketing campaign using a method you might never have attempted before. After that, ongoing monitoring of your efforts could take as little as a few minutes a day, preventing marketing from becoming a time sink.
Even agents who don't consider themselves technologically savvy can extend their marketing reach and incorporate new techniques. The end result is more leads, more first-time appointments, and ultimately, more satisfied customers. Plus, the DeltaNET® CRM even supports your customer retention strategy. Let's take a closer look at some of the most popular marketing approaches DeltaNET has packed in:
My Customer for Life Email Newsletters
Email is one of the most efficient and cost-effective real estate marketing tactics, providing more than $30 in ROI for every dollar. Yet, many agents and brokers don't take advantage of it. Worries about data privacy rules and other potential complications hold them back.
With My Customer for Life, you can remain in constant contact with subscribers, sending each one helpful and informative articles based on their interests. That deepens your brand relationship and helps establish credibility, which is essential for those who have not yet reached out to you.
When closing day arrives, My Customer for Life continues to deliver value. Past customers can enter their own "segment" on your email list, learn about home improvement and interior design, and get the most from their investment until they are ready to buy again.
Market research is the foundation of any agent's local expertise. It's crucial to know your comps whenever you're looking at a new property for sale. Yet, compiling all this information takes hours of effort. By the time you have the facts, they can be well on their way to changing.
With Market Watch Reports, you get all the market information you need in one accurate, timely package. They fully illuminate the latest sales activity in an area, from a single street or block to a large metroplex. It takes only seconds to produce the report, and it's always based on accurate intelligence.
Market Watch Reports provide a powerful asset for pricing customer properties, but that's only one use. They can be fully white-labeled and presented to leads or customers at any stage of the journey. One of these reports is often the perfect incentive to join your email marketing list.
Social media has immense power, but it also brings its perils. There's no doubt that professionals in real estate get more bottom-line revenue opportunities from social media than anyone else online. But that hardly makes a difference if it takes hours and hours to derive those benefits. Instead of spending hours on social media, Social Media Ad Wizard can condense your investment to just a few minutes per day. You can plan, perfect, and monitor Facebook social media advertising for all of your most promising properties. It all happens within a single, convenient view.
Even if you've never used digital advertising before, Social Media Ad Wizard will have you off to a running start in a fraction of the time. You'll see exactly which ads are performing and how you can improve them to get even better results, potentially cutting weeks off your timeline to attract buyers.
Reduce the Learning Curve and Make Modern Digital Marketing Part of Your "Go-To" Toolkit
Any method becomes a "go-to" when you know it works. At one time or another, every one of those methods was still unfamiliar. With a willingness to learn, any team member can master all-new ideas that will make them more successful.
Digital marketing doesn't need to be intimidating. Any agent, at any stage in their career, can benefit. The key is having the right tools, support, and motivation. We provide the first two, and you can light the spark for the last when you engage your team members with their marketing opportunities.
Doing something new doesn't mean you need to give up on what's worked well in the past. Digital marketing automation saves so much time that new and old methods can co-exist seamlessly. Pursue one new idea for a quarter, and you'll see it gain traction and begin to produce real results.
It's never too late to try something new with your real estate marketing, but the best time to begin is always right now. Instead of starting from scratch or reinventing the wheel, use the right technology to accelerate your results – and keep you on the steady path until you get the ROI you want.