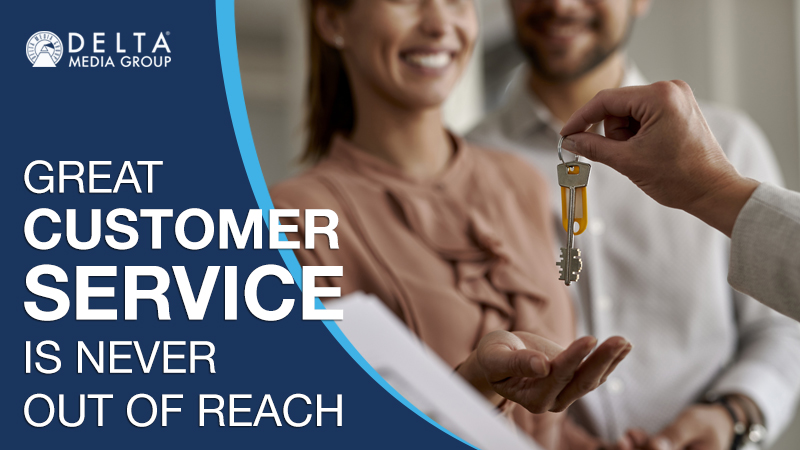 Great customer service helps set the best real estate agencies apart from the rest. Even if you are an independent agent at the helm of your own practice, you still have many opportunities to deliver truly memorable customer service that keeps people coming back for more.
From the very first moment a lead reaches out to you on your website, you have the chance to create a bond by responding as quickly as possible. Research shows that if you react within a few minutes, you are much more likely to close an agreement than an agent who responds sometime the next day.
One interesting challenge in real estate is the fact you must drive exceptional customer service even before a website visitor has actually made contact with you. To sow the seeds of trust that lead to an engagement, your real estate website must represent your best self.
Although your website is your most versatile branding and marketing tool, you remain the star of the show. People who decide to work with you are choosing you for your local expertise and the way you present your skills as the answer to their unique problems. So, customer service remains personal.
Setting a High Standard for Customer Service in Real Estate
By formulating a customer service philosophy and strategy early in your career, you can ensure that your website, email marketing, and other collateral work together to reinforce your brand image. Of course, you'll also be far more likely to close deals once you speak to prospective customers!
Let's take a look at some of the ways you can make customer service a core strength:
Start with Transparency
No matter whether you're working with buyers or sellers, transparency is key. Advise your customers with clarity and compassion, focusing on their areas of concern. For buyers, that usually means getting them up to speed on the dynamics of the market and their options. For sellers, it means developing a measurable marketing strategy and keeping them in the loop as the process unfolds.


Be Proactive and Anticipate Needs
Understanding client needs starts with gathering the right information. That may begin on a website, where visitors volunteer more details as they become engaged with your content. But the face to face consultation is a crucial piece, allowing you to find out where your client is really coming from. Use the time to discover their motivations, priorities, and worries so you can add unexpected value.


Follow Up Early and Often
With the average home sale falling from 60 days to just 15 days, an individual transaction can be over almost before you know it. It's crucial to remain in contact with your leads, who can make a move in a matter of days, as well as with your existing clients. A Customer Relationship Management app for real estate gives you complete visibility into your contacts and helps you automate marketing functions.


Accommodate Communication Preferences
Responsiveness is the name of the game in customer service. To get there, remember that clients aren't "one size fits all." Some people may hate getting on the phone, while others are intimidated by email. If clients know exactly how and when to reach you up front, they will feel supported. An autoresponder or AI chat utility on your website can help cover common questions during your unavailable hours.


Set Up an Emergency Line
Establishing clear expectations early on has another benefit: creating definite boundaries both sides can understand and agree on. This is vital for work-life balance — you shouldn't be answering a phone call at 3 a.m. unless it's an emergency. But what about those truly dire situations? A separate emergency line is a reasonable compromise that most clients will both respect and appreciate.


Consider an Assistant
A "virtual assistant" does not necessarily need to be a qualified real estate agent. He or she can help by responding to basic inquiries at night, over the weekend, and any time you expect to be away from the office. Many assistants operate as freelancers, which reduces the time it takes to get them onboard.


Build a Strong Network
A focus on customer service means your recommendations are more likely to be welcome and accepted by your clients. Developing a network of trusted outside service providers, like home inspectors and real estate attorneys, helps ensure smooth sailing for clients and extends your reputation for excellence.


Integrate Customer Service into Your Brand


If customer service is a priority, be sure your social media, blog posts, and other marketing collateral show it. Follow up with satisfied customers to get testimonials and share these on digital properties. Leverage marketing automation so you consistently communicate with your target audience.
Contact us to find out more about how automation can raise customer service to the next level.