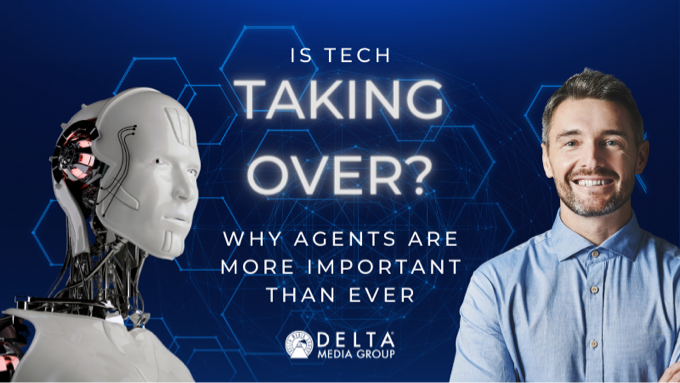 Real estate technology is moving faster than ever, and some agents are beginning to wonder if they'll be left behind. Big industry players have made moves to automate real estate in disruptive ways — but, in the long run, they've only succeeded in "disrupting" their own business.
It is becoming more obvious that the average buyer or seller doesn't want a fully AI-driven process, nor do they want to do it all themselves, no matter how convenient the tools become. What they want is personalized advice from a local expert.
Rather than replacing agents, the best technology enhances what they can do.
More Accessible Technology Means Better Results for Organizations of All Sizes
It was not that long ago when the best technology was available only to the largest brokerages. With the introduction of Customer Relationship Management tools like the DeltaNET®6, that's no longer the case. From large enterprises to independent agents, everyone can benefit.
Likewise, CRM technology was once limited mainly to B2B sales teams. With a CRM solution built by and for real estate professionals, it becomes possible for any member of a team to be more productive than ever before — while doing less work and making fewer errors along the way.
Not even the most advanced technology available can do what real estate agents do: Guide customers to informed, confident decisions about buying and selling. But what technology can do is accelerate and automate rote tasks and routines, especially those related to marketing and advertising.
You know marketing consistently is an essential part of your business success. But how often have you set out to do it only to have other priorities take center stage? It's a common problem for people at all stages of their careers, and precisely the one technology is best suited to overcome.
Technology Supports Your Efforts to Deliver the Human Touch Every Time
To work with you, someone has to know you, like you, and trust you. One unique aspect of real estate is that you often must build that rapport before the person steps into your office for the first time. For that to work, technology needs to be there to fill in the gaps.
From your real estate website to social media and email marketing, an all-in-one technology center of excellence like DeltaNET®6 ensures that you are always communicating with your audience in a humane, consistent way — no matter if you're talking directly to one person, one hundred, or one thousand.
For email, it does this through a combination of templating and personalization. You set up campaigns once, for just a few minutes at a time, then the system fills in the blanks based on individual behavior. Every mailing list subscriber gets a tailored experience based on their interests.
For social media, an event-driven approach is best. For example, you can have automatic updates made whenever details on your active listings change. You can also instantly publicize new listings, focusing a fast-moving audience's attention on virtual tours and other features that matter to them.
Yes, you could do it all yourself, painstakingly writing social media updates and emails by hand. In the end, though, this wouldn't make the quality of your communication better. Instead, it would just mean spending more time on it, to the detriment of all the other things that move your business forward.
The Future Is Now for Real Estate — and Marketing Automation Is Ready to Help You
As real estate agents, we know technology isn't the answer to every problem. Despite rosy predictions about the future of machine learning, we are probably 200 years away from fully autonomous robots doing the work of today's agents.
In fact, an Oxford study ranks "real estate sales agents" near the middle of the pack for their long-term computerization risk — suggesting it will take a long time and a lot of technological development before agents and brokers need to be concerned.
In the meantime, technology is not an enemy, but an ally. You can use it to build the practice you want by giving yourself the leeway to spend your time and energy wisely. It's no longer a choice between so many long hours of marketing or nothing at all. In this sense, at least, you really can have it all.
That's an essential piece of the puzzle for agents and brokers who want to optimize their business for work-life balance. Within just a few weeks of implementing real estate CRM technology, you can save dozens of hours. Those can be used to push your business further or get the rest you need and deserve.
Delta Media Group is here to help you bring the promises of technology down to earth in your career. Contact us to learn more or begin.