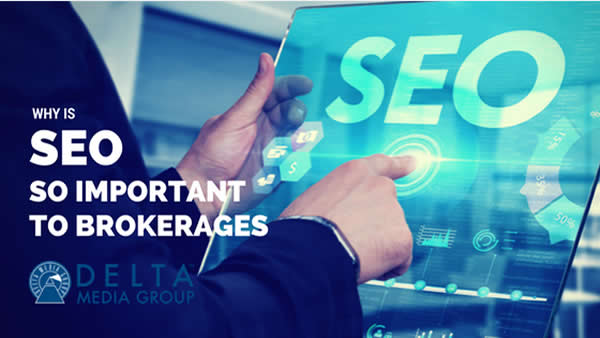 So many companies, admittedly ours included, try and sell real estate brokerages on search engine optimization (SEO). We focus on the increase in traffic, return on investment, so on, and so forth.
What I sometimes fail to communicate is the importance SEO plays in the overall profitability of the real estate brokerage.
For too long real estate brokerages would struggle for profitability. They would yield to the idea of hoping to just break even in their brokerage business and would look for ancillary services for the profitability they needed.
The beautiful thing with SEO is something I call the "gift that keeps giving." I always prefer SEO over PPC (Pay Per Click).
Since about 2002 I've been passionate about SEO. I've always believed that I, along with a great team of smart people, could figure out automated ways to get real estate properties indexed by Google on the web sites we created. And we did.
I'll never forget getting phone calls from MLS executives in around 2003. A number of them were calling us because they were upset with us. They thought we were sharing IDX data with Google. What happened at that time is we figured out very effective SEO methods and Google rewarded hundreds of our brokerage web sites across the country and in just about every single market, web sites powered by us were showing on Google for all MLS market searches. It was a fun and interesting time. This is when I knew we could be very effective with SEO within the real estate industry.
So, what can, or does, or should SEO mean to brokerage business?
Granted, your business needs to be operating well in all areas, but, SEO can mean the difference between profitability and loosing money. And, when done properly, SEO continues to yield results over time.
Take a look at this Google Analytics report for an example brokerage. They have been on our SEO software for over fifteen years. In the past three years they've had nearly 2.7 million visitors come from SEO. Nearly 1.3 mission visitors were first time visitors. These visitors represented over 16,000 good lead opportunities. You can obviously see the growth over time. So far in 2017 their SEO traffic is up by nearly 60%. Oh yeah…for reference this is a company with about 350 sales associates.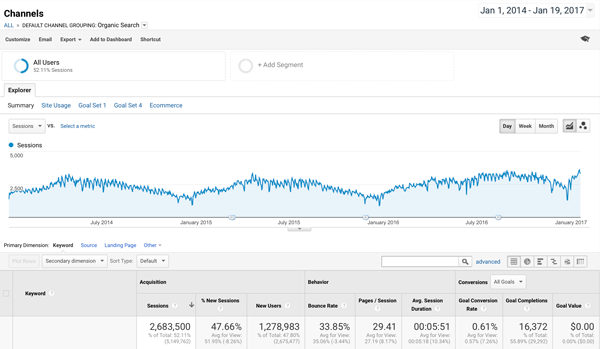 So, what questions should you be asking in regards to your web site SEO? Where should I start looking?
First, find out how much SEO generated traffic your web site gets. Is it anywhere close to these numbers?
Second, how many leads does my SEO get me? You should be seeing good leads come from your SEO traffic.
Third, is there active SEO work happening on my web site? If you don't know...find out!
Fourth, am I paying attention to my SEO results at least monthly? You need to see monthly reports on this metric. It's too important, regardless of your size to not pay attention to it.
So, what one simple thing can I check on today?
If you do anything, check and see how many pages exist in Google's Live Index for your web site. Do this by typing "site:" and your web site domain name into Google Search on your laptop. Google will provide you the number of pages it has in its live index for your web site. For reference, our brokerages have between about 100,000 to 600,000 pages in the live index depending on the size of the market being covered.
As always, we would love to talk with you so if you have questions for us please email us at support@deltagroup.com or call us at 1-866-233-9833.