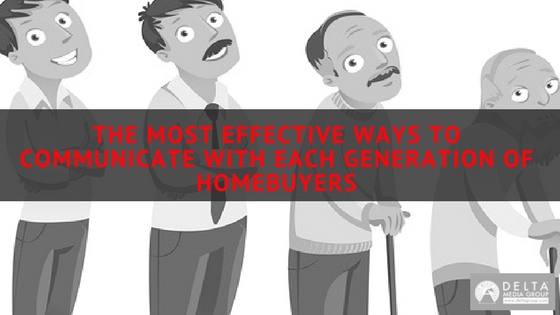 No matter what market you're in, what brand you represent, and what types of properties you sell, learning how to interact effectively with homebuyers from different generations is simply part of being a successful real estate agent. Every buyer is unique, but there are also consistent generational trends that can give you a leg up on communicating effectively with each of your clients. Understanding who your buyers are, what motivates them, and how they formed their point of view will ultimately make you a more effective real estate agent.
How to Effectively Engage Each Generation of Homebuyers
The Silent Generation, or Traditionalists
This generation represents homebuyers who were born before 1945, and it's currently the smallest generation of buyers. Connecting with clients from the Silent Generation is much easier when you take a traditional approach, by visiting in person, making a phone call, or even sending a personalized letter in the mail. Buyers from this generation appreciate seeing tangible benefits first-hand, often preferring a direct, honest, courteous style for both marketing a negotiations. They also love an agent who does what they say they'll do, when they say they'll do it.


Baby Boomers
The Baby Boomer generation was born between 1946 and 1960, so Boomers are often a bit more comfortable with today's technology than buyers from the Silent Generation. However, the era of constant connection and online communication started a bit later in the lives of Baby Boomers. They may search for homes online, read reviews, and even engage on social media with their smartphones, but many Baby Boomers will still prefer a phone call or face-to-face meeting for important conversations.

The Baby Boomer generation comprises a very diverse group, so it's a good idea to tailor your communication style to each individual. Many Baby Boomers are now entering retirement age, and are searching for homes that fit their needs at this stage of their life.


Generation X
Born between 1961 and 1980, Generation X is a bit smaller than the Baby Boomers who came before, and the Millennials who followed. This generation will often be more comfortable using technology to communicate, but not quite to the same extent as Millennials. You'll find that many members of Generation X are currently either starting or raising families, which will often have a major influence on what they're looking for from a home. While this generation isn't always going to be as enthusiastic about social media as Millennial shoppers, Gen X absolutely appreciate the ease and convenience of online communication so sending an email is a great way to stay in touch.


Millennials
The youngest generation and also the largest, Millennials are quickly becoming one of the most important demographics for real estate agents. These buyers grew up in the connected era, and feel as comfortable communicating online as they do face-to-face. They're active on social media, interested in conducting their own research online, and will often be shopping for their first home. Make sure that Millennial shoppers can reach you through their preferred online communication mediums, and try to back your suggestions with data when you offer advice. These buyers may not have the experience of shoppers from other generations, but they're more than willing to learn the ropes from an experienced agent.
No matter which demographics you target, effective real estate marketing will help you communicate your values, create trust, and build relationships. And our team is here to help you reach every generation! Contact Delta Media Group to learn more about real estate marketing, website design, and all of the services we offer to help your business thrive.