In 2019 Long Island's Coach Realtors launched a corporate rebranding campaign, "Here You Can," positioning the company for its future using messages of inspiration and possibility.
As a part of this month's cover story, the leadership team at Coach Realtors shares how "Here You Can" sets the tone for its sales associates, the public, and the community it serves.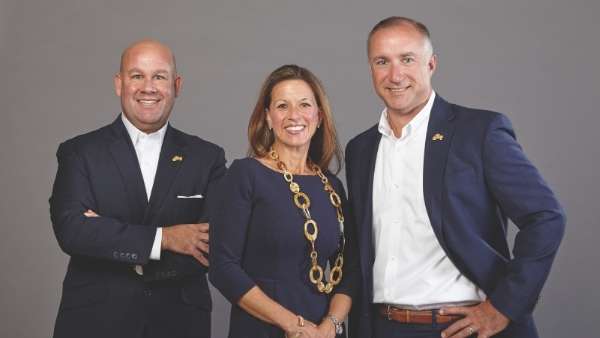 Here You Can Build A Legacy

Coach Realtors' story begins with a friendship that started during World War II. That friendship continued and grew into a business partnership between the wartime friends in 1954. The foundation of that business still exists today in Long Island's Coach Realtors, owned and operated by the Finn family since 1980.
Larry and Georgianna Finn acquired the brand from its original owners and spent the next four decades growing and nurturing the brand. The Finn family and the real estate industry are inextricably intertwined. The Finns remain as the company's chairman and president, respectively.
Today, Coach Realtors is lead by Lawrence P. (LP) Finn, II, Whitney Finn-LaCosta, and Robert LaCosta, who bring experience, finesse, strong leadership, and a deep commitment to their associates, their community, and the people drawn to live on Long Island.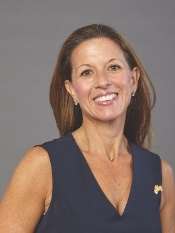 Whitney Finn-LaCosta
serves as its general manager and oversees its branch offices' daily activity. She shares, "Coach Realtors is my parents' first child. And they did what every good parent would do. They nurtured it. They allowed it to grow. They wanted it to be successful."
Through careful thought and planning, Coach Realtors continues to grow in both size and market share. The company now has 19 branch offices and 700-plus brokers, sales associates, and support personnel servicing the Queens and Suffolk County marketplace.
Whitney Finn-LaCosta notes, "Coach Realtors is always striving to set the bar higher because every good company that's sustainable, evolves. Our company's rebranding is another chapter in our story."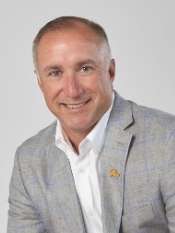 Robert LaCosta
oversees the mortgage and title operations, Coach Title Insurance Agency, and its co-owned lending institution, Academy Mortgage Corporation. LaCosta on the future of Coach and its agents, "We pride ourselves on professionalism and the quality of service that we provide our agents and the public."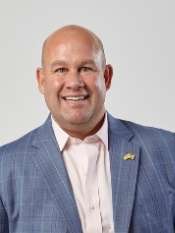 LP Finn, III
is the company's chief operating officer, "Many people ask us about our core values. They boil down to four points: education, personal attention to our agents, our heritage, and the character of the people who make up our company. Through our mentorship, experience, and time-tested practices, we impact our agents, buyers, and sellers' lives."
Finn comments, "Coach Realtors has been in business since 1954. We've had front row seats to market highs and lows, shifts in the industry, and witnessed many competitors come and go. By growing and investing wisely, we've built a company that's stable in any market and respected by our entire industry."
"We are continually listed among the Top 200 REALTORS® Across the United States by RISMedia's Annual Power Broker Report and the Annual REAL Trends 500. With more than 100,000 real estate brokerages in the country and more than 2,000 on Long Island, being listed within the nation's top 200 brokerages places us at the top of the real estate industry."
"We're proud to be a market leader and a member of the finest real estate networks in the world: Christie's International Real Estate, Leading Real Estate Companies of the World®, Mayfair International Realty, Luxury Portfolio International®, and Who's Who in Luxury Real Estate," says Finn. "Our affiliations with these networks provide our agents with an edge over the competition by providing their clients with industry-leading property marketing and access to an exclusive pool of upper-tier buyers."



Here Long Islanders Can Achieve Their Homeownership Dreams
The "Here You Can" slogan embraces the love Long Islanders have for their home and a call to action for Coach's agents to achieve their full potential. Coach's agents empower clients to make a move with the knowledge that Coach Realtors is the right company in which to place their trust.
With six decades of experience behind Coach's name, people return to Coach's agents because of their undeniable reputation as Long Island's real estate gurus. Whether it's a client's first encounter working with a Coach sales associate or they are a returning customer, people soon feel at ease realizing they're putting their futures into the hands of local experts.


Coach's sales professionals are visionaries when it comes to developing rock-solid relationships with their clients by raising the bar when it comes to delivering high-quality experiences. They pay attention to the details of each customer's transaction and treat each person fairly.


Coach's associates separate themselves from the competition with qualities that play a leading role in their clients' success stories. They have first-hand knowledge of communities from Huntington to West Islip and Floral Park to Williston Park because they live in the same areas. They commit to proven strategies for buyers and sellers and approach each transaction with passion and enthusiasm.
Coach Realtors understand what matters most to its associates and their clients. Associates have a never-ending wealth of information and opportunities to share with their clients. Memberships in world-class brokerage networks such as Christie's International Real Estate opens doors to high-end listings for buyers and access to upper-tier buyers for sellers.
Its membership in Leading Real Estate Companies of the World® (LeadingRE) gives Coach's Relocation Department access to the world's leading network of real estate firms, whether clients are moving across town or the globe.
Finn shares, "We differ from other brokerages in many ways. An important difference is our exclusive memberships with the most prestigious real estate networks in the world. These networks provide our agents with a real advantage over other brokerages and a truly unique market position. Sales agents with Coach Realtors provide their sellers with industry-leading property marketing and access to an exclusive buyer pool."
"In 2018, our leadership team decided to go on the search for a real estate tech company to create a sophisticated web- site that was simple and easy-to-use for our clients and a powerful intranet platform for our agents," says Finn. "After a lengthy search, who we found was Delta Media Group®. "They are not another run-of-the-mill real estate vendor."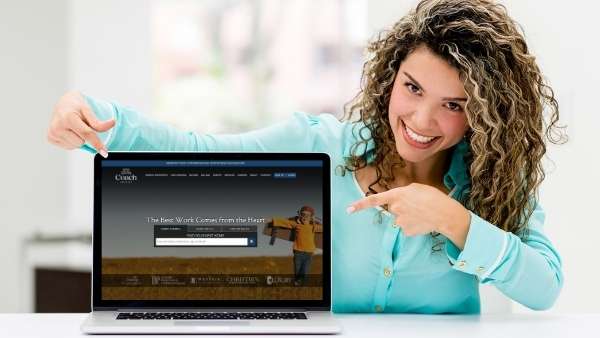 Here You Can Build Partnerships That Power Success
Coach Realtors challenged Delta Media Group to create an attention-grabbing, modern website simplifying its content, navigation, and functionality. The site needed to be responsive, so it functioned as well as it looked. Also, Coach wanted to provide their agents with a robust intranet platform to streamline their businesses and automate much of their daily activities.
Delta Media Group rose to the challenge, and CoachRealtors.com relaunched in 2018 with its new design and functionality.
After only a few months, Coach Realtors reaped the rewards of signing with Delta Media Group as their online technology and marketing partner. Heeding their partner's advice, Coach took full advantage of Delta's website design, SEO software, and custom content services.
In 2019, as Coach Realtors got to work rebranding its company conveying the "Here You Can" messaging, they collaborated with Delta Media Group on three projects: a relaunch of CoachRealtors.com, a launch of JoinCoach.com, and the unveiling of their rebrand with HereYouCan.com.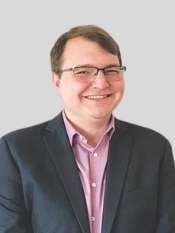 Franklin Stoffer, Sales Manager for Delta Media Group, "Since day one of working with LP Finn on the project to bring Coach Realtors on board with Delta Media Group, I could tell that we were an immediate culture fit. LP's style of managing a project of this scale and our typical approach to onboarding went hand in hand to deliver an easy migration of hundreds of agents into our software. I can recall an event that Coach throws each year that I was invited to speak at in early 2019. I spent the day delivering three different training sessions about new features we were introducing at the time."
"Seeing just how excited and engaged the Coach associates were about features like Open House Connector, customizable websites, and updates to our CRM platform was a joy."
To have a website that ranks well in search engines, it's important to have a mobile-responsive site that is easy to use and converts well no matter what device your visitor is using.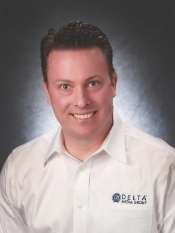 During the first few months of Coach's partnership with Delta Media Group, they saw a dramatic jump in website visitor traffic. Aaron Geh, head of Delta's Digital Marketing Business Operations, comments about its initial results, "On average 68% of traffic to real estate websites are on mobile phones or tablets. Coach- Realtors.com saw a tremendous amount of growth from visitors on mobile devices. Comparing traffic from the previous year, visitors on mobile phones increased by 942%, while traffic on tablets increased by 74%. Over 68% of traffic to the site was on a mobile phone or tablet. 43% of total leads were from visitors on mobile devices."
"SEO has to be at the core of any online marketing strategy. Coach Realtors leveraged our SEO software to see an increase in organic search traffic by 104%."
"Organic search accounts for 63% of total traffic to CoachRealtors.com. Organic search accounts for 60% of total leads," says Geh.
Keeping true to its promise to support its agents' success, Coach transitioned its associates to the DeltaNET™️ 6 CRM platform to help their businesses after partnering with Delta Media Group. Coach agents now have one of the most robust, all-in-one website and digital marketing platforms in the industry. The platform helps agents manage all the aspects of their business while automating many of their daily activities.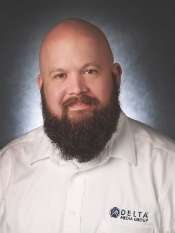 Harley Wolfarth, Technical Support Manager, Delta Media Group, "Changing to a new provider for your website (not to mention your CRM and email marketing at the same time) can be a big, stressful ordeal. However, when you look at how that process went with Coach Realtors, it could have been just any other day at the office."
"What set Coach apart from the rest? It started with well-defined goals and expectations outlined from the beginning."
"You can't know when the job is done if you don't know what the job is. Next was a constant stream of communication throughout the process. LP Finn and I always remained in touch and available to one another so that any questions that needed answering or data that needed gathering could be handled quickly and efficiently. Finally, trust. We knew we could trust each other to get the job done. I felt like Coach's successes were our successes, and when Coach grew, we did too."
"From the start, I have been impressed with Delta Media Group. Their web- site build process from initial design to eventual launch was flawless and, most importantly, on time. Since our launch, visitor traffic is way up, and DeltaNET 6 continues to amaze. Knowing my firm's online tech offering is second-to-none helps in all aspects of our retention and recruiting efforts. Lastly, the support provided by Delta Media Group has been quick and efficient," says Finn.
At the onset of the pandemic, real estate firms needed to pivot their businesses to navigate the new normal. Coach (with the aid of the DeltaNET 6 CRM) reacted quickly with their microsite, Ready for Recovery on CoachRealtors.com. The site's goal: to supply agents and their clients with the most accurate and up-to-date information about keeping the real estate process moving during COVID-19.
Finn shares, "I feel this could be the most interesting part of our story. Using the DeltaNET, we quickly built AT NO COST and LITTLE EFFORT, a microsite, Ready For Recovery on CoachRealtors.com. It consisted of 20-plus pages containing tons of data, graphics, videos, and consumer-facing flipbooks. The flipbooks were read over 14,000 times. The site was updated each week with more data and real-time info needed by the agents and the public. Without an easy interface, we could not have done this in such a quick way."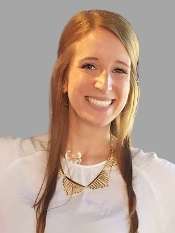 Shannon Heyman
, Social Media Director for Coach Realtors, comments, "Since partnering with Delta Media Group in 2018, it has been a very beneficial and successful union for Coach Realtors agents and staff alike. In my role, I work closely with our agents, so I got to see firsthand their excitement of gaining a world-class website, CRM, and marketing system."
"As new updates continuously roll out, it's become more clear that Delta's products and services are made with the real estate agent front of mind."
She continues, "I also have to credit their support staff––they make my job a lot easier, and I'm incredibly indebted to them! I'm able to rely on them when I get stuck helping an agent, or need something done for the company site. Everyone is very responsive, helpful, patient, and open to suggestions. When working with our agents, I get a lot of insight into what they're looking for in a CRM, what they would like to see in an update, and/or what features would make their business easier. It's extremely nice to work with a company that is so receptive to first-hand feedback and what's even better is they actually take that feedback and do something with it.
A common struggle for real estate agents is to adapt to (and then stay on top of) the ever-changing digital age. It can be challenging, but with the use of their CRM, wonderful marketing campaigns, and a personalized website, they're able to remain top of mind and continue to market themselves in a unique, easy, and professional way," comments Heyman.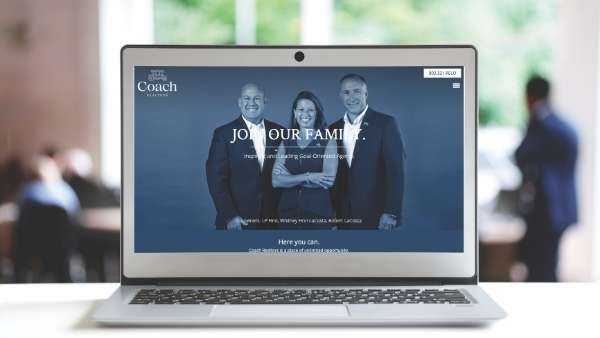 Here You Can Build Your Careers Dreams into a Reality
We asked, "Why do agents around Long Island sign as an agent with Coach Realtors?" Whitney Finn-LaCosta says, "I think an agent would want to work for Coach because we care about them, not just as an agent, but also as a person."
She continues, "One of my first memories is our company Christmas parties in our house, where I felt like the people there at the house were our family."
"We provide this mentorship, this kinship, this environment, that's just different than anything else out in the marketplace," reflects Finn.
Coach considers each salesperson as a valuable business partner who represents them. Consequently, Coach takes their commitment to their associates quite seriously. The company makes great efforts to provide each person with a supportive, fair, friendly, and fun workplace—not to mention technically advantaged.
"A real estate salesperson flourishes when he or she has a strong, successful brokerage behind them—a brokerage with vision, meaningful training, great marketing support, a success-oriented company culture, and a full suite of market-leading sales tools and resources," remarks Finn.
Bob LaCosta adds, "We're here to champion their successes. It's a place where people feel comfortable and where they want to work."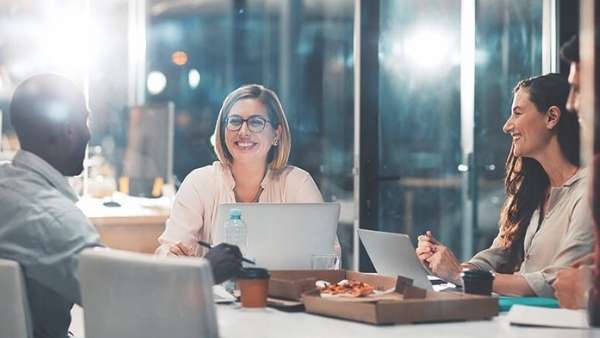 Here You Can Own Your Future
While Coach Realtors has been around for a very long time—over 60 years, the company does not rest on its laurels. Every change and evolution moves Coach Realtors into the future, allowing them to celebrate their achievements and its members.
Finn is keenly aware of what it takes to remain a constant in the real estate industry. Staying true to its stable, smart growth principles is vital to Coach Realtors' success that benefits agents and the brand alike.
What's in store for the future at Coach Realtors? Finn says, growing vertically and increasing its sales associates in the brand office as the company's market- share continues to grow. Look for Coach Realtors to actively recruit new and experienced associates to champion each other with a spirit of cooperation and a willingness to learn and grow.
Finn ended our interview, "We're also open to timely and strategic acquisitions and to new partnerships that help us do an even better job of what we do best."