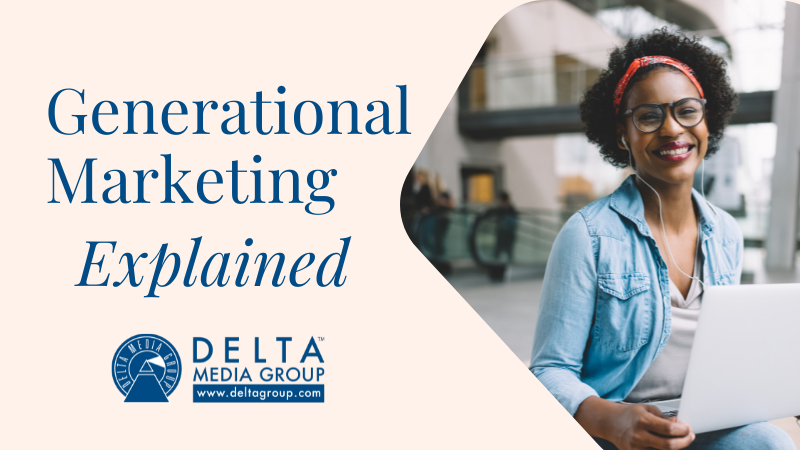 Generational marketing is more important to real estate agents than ever.
In generational marketing, you segment and focus your marketing based on techniques and messaging relevant to an age group. For instance, Baby Boomers often respond to mailers, but Millennials require a technology-forward approach.
There are four generations in today's housing market, each with its own concerns and challenges. Generational marketing crafts customer touch-points to improve their experience and meets them where they are in terms of their unique expectations.
Let's take a closer look at the generations and how they differ.
Understanding the Different Generations in Today's Marketing Environment
Baby Boomers
Baby Boomers are aged between 57 and 75 years old today. They are the generation that built many of America's modern institutions, benefiting from the post-World War II boom and an environment where many of the country's main competitors were focused on recovering from conflict.
From a marketing perspective, Baby Boomers require a personal touch. They are not as comfortable with digital marketing, but "guerilla marketing" tactics still work well for them. Many will buy their last home in the coming years, though an increasingly large portion has already done so.
Generation X
Aged 42 to 57 today, Generation X was once known as "the MTV Generation." Most came of age in the "me first" environment of the 1980s, representing a break from their parents' views. Many are now in the prime of their careers, with high disposable income paired with an eye toward retirement.
Over the years, Generation X has tended to prioritize saving over spending, but that doesn't make them spendthrifts. You can reach Generation X with a variety of tactics. Email and social media are mainstays, but traditional mailers and brochures can still be effective.
Millennials
Aged 26 to 41, Millennials are currently the largest generation in the U.S. workforce. The eldest of this cohort were among the last people to grow up without the internet. Since their teen and college years, "always on" connectivity has become ubiquitous through a panoply of mobile devices.
Living through multiple economic meltdowns, Millennials have usually been wary of large financial institutions and the idea of a home as an asset. That said, they are buying in greater numbers than before. They will make up the majority of both buyers and sellers for the foreseeable future.
Millennials focus more than others on doing their own research online long before they reach out to a real estate agent. As such, they demand an omnichannel digital marketing experience that meets their needs all through the buyer journey. Email marketing is essential to building a relationship with them.
Generation Z
Believe it or not, Generation Z is already making its mark in the housing market. If younger Millennials were the first "digital natives," then Generation Z makes up the first "mobile natives," some of whom had their first iPad or other tablet computer as early as kindergarten.
This naturally shapes the Generation Z predisposition toward digital marketing. With the oldest now 25, fresh waves of Gen Z college graduates will be coming each year. They will be starting careers and even families. In general, they have a very high opinion of the value of a home as an asset.
Many in Generation Z are sanguine about buying a home and even wish to do it before they turn 30. One striking aspect of the recent seller's market is the unexpectedly robust activity of Generation Z. From a marketing viewpoint, they are much like Millennials, seeking authenticity and alignment with their values.
Building a Generational Marketing Strategy that Works
Determine the Generational Focus of Your Ideal Customers
Generation goes hand in hand with life stage. You no doubt already have a general idea of your usual customer's generation: First-time homebuyers have very different needs than Empty Nesters, after all. A generational profile gives you a strong idea about what kinds of problems customers need to solve.


Adjust Your Marketing Mix Appropriately
Older customers usually respond well to mailers, brochures, and face-to-face events. If you are working with Baby Boomers or Generation X, make certain your marketing reflects that. Since they also tend to enjoy voice calls more than younger customers, ensure it is easy to contact you by phone, too.


Use Automation for Consistent, Value-Added Activity
Aside from Baby Boomers, virtually all your prospective customers respond well to social media and email marketing. Email marketing in particular is essential to building a long-term relationship with prospects who may take weeks or months to enter the market after their first contact with you.
Generational marketing may sound complex, but it is worthwhile, even if you work with many different categories of customers. Contact us today to discover how marketing automation can save thousands of hours of work while giving you compelling, helpful, and effective generational marketing.