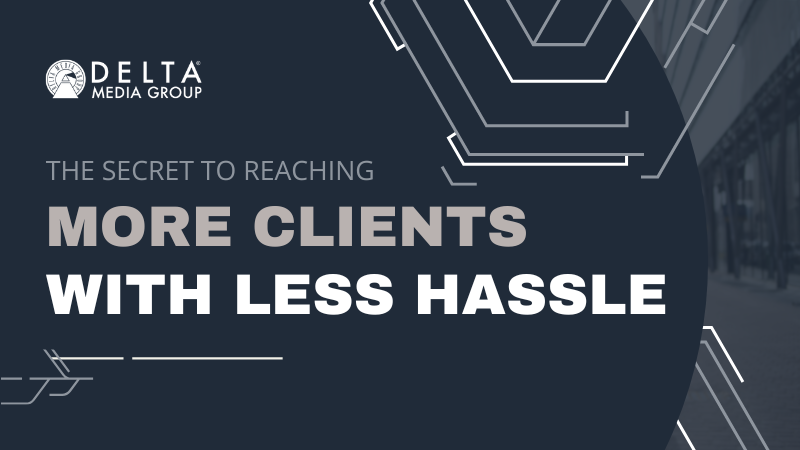 Everyone knows what it's like to spend your first year or so in real estate "chasing down leads."
New real estate agents need time to learn the ropes, figure out which side of the transaction they like to be on, and identify their ideal customers. But after the adjustment period, you need a shift in thinking — especially about how you keep your pipeline full.
Many a real estate agent identifies as a "people person," so a robust schedule of in-person networking and events might seem to make sense. But even if they are energizing, there's no getting around how time-consuming those engagements can be.
And when they're not delivering real business value, you can end up running yourself ragged.
Whether you're new or experienced, the key to bringing your practice to the next level is to reimagine how you build relationships with prospects and leads. Most agents go furthest by leveraging resources they already have in fresh, new ways.
That includes:
Tapping your existing network to meet new people faster and with less effort

Using real estate technology to pare down the time you spend on routine tasks
By combining these two approaches, you'll spend more of your energy and focus on high-value activities that move you forward toward your goals. That boosts motivation for individuals and teams alike since you spend less time grappling with the frustrating feeling that you're "going nowhere."
What does it look like in practice? Most real estate professionals don't need to completely transform their workflow, make big investments, or learn a completely new skill. Instead, focus on the wins you can get by incrementally changing your relationship with the people and tasks at hand.
Let's look at some examples that can offer worthwhile wins at any stage of your career:
Get Used to Asking for Referrals
Some of the most successful real estate firms in the U.S. get 50% of their business from referrals or even more. That isn't necessarily because they're so good people are beating down their doors. They make asking for referrals a top priority, doing it consistently and much more frequently than the rest.
Every time you ask for a referral, you're reminding the customer that you exist – and that itself is a win. While the majority of people report favorable experiences with their real estate agent, most forget that person's name within just one year. Requesting a referral keeps those embers of recognition burning.
Agents develop their own follow-up cadence, but it's clear most aren't connecting nearly as often as they could be. Instead of reaching out to former clients every three months or every six months, think about doing it every month. In time, they may start to proactively send opportunities your way.
One way to streamline this process is to use a real estate CRM for clear visibility into your network.
Revamp Your Real Estate Website
With Millennials and Generation Z making up the majority of today's homebuyers, more than 90% of all home searches start online. Your real estate website is your digital first impression – and it's the most versatile tool you have for deepening relationships with people who haven't reached out to you yet.
You already know it can take months for someone to go from their first thoughts about buying or selling to actually talking to an agent. Your website gives you the power to add value to others' lives. A modern, well-designed website positions you as a trusted advisor whose insights can make a difference.
Your website's design is essential to success. It needs to be polished, professional, and easy to use. One standout feature is responsiveness, where the appearance and navigation adjust automatically for ease of use with mobile. That's a must-have, as more people are browsing property listings on their phones.
Publish More Online Real Estate Content
Most of the time, when people go online, they're trying to solve a problem or answer a question. That problem might be something as simple as "I'm bored." For those browsing home listings without the intent to buy soon, the question could be, "what's around in my local area, and how much does it cost?"
As people grow serious about buying or selling a home, the questions on their minds get more precise. They turn into things you can help with, like "which is the best neighborhood for me?" or "how can I get financing?" Helpful, informative online content lets you share your expertise.
The core of any content marketing strategy is the simple blog. Blogs not only give readers a taste of the wisdom you can offer but also make it more likely you'll appear prominently in online searches related to your business. Consistency counts, so aim to publish one blog a week to start.
Use Email Marketing to Stay in Touch
With more than $30 of ROI for every dollar spent, email marketing may just be the most cost-effective digital marketing approach of them all. And those figures relate to all industries: When an email might lead to a $200,000 home sale, it's an even more attractive investment.
Most people are happy to get an occasional email from a brand like yours as long as they agree to it upfront and know what they're getting. Trade them a sophisticated piece of content, like a local market report, then contact them weekly with your most helpful new content.
With email marketing automation for real estate agents, you can deliver a high-touch experience while skipping all the hours of work. After initial setup, it might take only a few minutes a month to send out a bevy of potent, personalized email messages that retain a humane "one-on-one" feeling.
Define a Focused Social Media Strategy
Of all the professionals doing business online today, real estate agents stand out as the ones who can harness social media's potential to the utmost. Some agents source most of their clients from social media, and a few hours of online engagement every week results in a busy calendar.
In the world of social media, doing "a little bit of everything" results in a whole lot of nothing. Making the most of social means zooming in on the specific platforms where your customers are most likely to be found. A good place to start is Instagram, a hub for top-quality real estate photography.
If you're dealing with commercial or luxury property, LinkedIn can be a good way to find high-net-worth individuals ready to invest. Facebook, on the other hand, is a good all-around selection for building your own community through your branded business page, a terrific opportunity to stay in touch long-term.
Whatever you choose, social media automation is crucial. It lets you plan posts in advance, timing their release for whenever your audience is most active. It also makes it easier to see at a glance when your input can help guide a conversation — resulting in less time spent scrolling and more time connecting.
Technology equips you to dig deeper into existing relationships and plant the seeds of new ones. With the right tools and a winning mindset, you can achieve more than ever in your real estate practice. Contact us to learn more today.