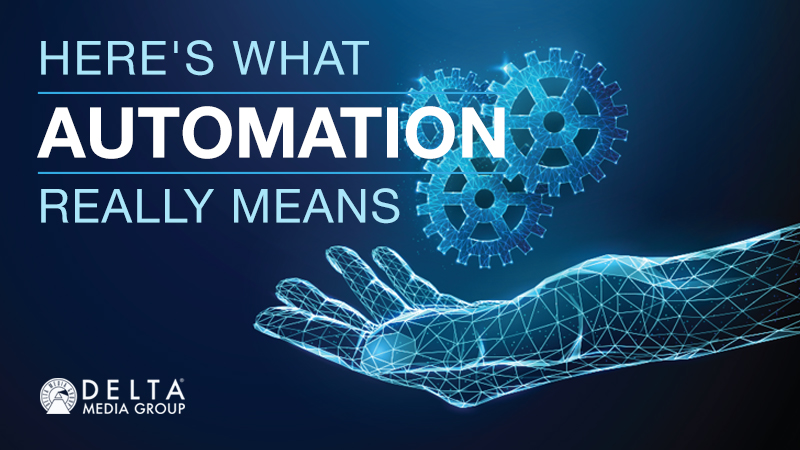 Whether you're an individual agent or you manage a whole team, success in real estate often starts with time management. It may feel like there are never enough hours in the day to tackle every important task... but what if you had a helping hand from reliable real estate tech to handle the tedious yet important tasks that can easily clog up your daily schedule? Just as importantly, how would you invest all of the extra time that automation can free up in your workday?
With a little help from technology, agents can spend less time on repetitive, time-consuming tasks, and more time on providing the best possible service to clients. Here's what automation really means, and how your real estate firm can benefit from it.
Here's What Automation Really Means
Nearly every industry has tasks that are better handled by machines than humans, and real estate is no exception. The difference is that instead of robotics and fancy factory equipment, real estate relies primarily on software to automate key tasks without sacrificing on quality. Automation can be an essential element of your lead generation, marketing, and so much more.
Getting Started with Real Estate Automation
When you're ready to start benefiting from automation, the first thing you'll need is a powerful all-in-one solution like the DeltaNET. This is where you'll find many of the dependable tools that help you automate the time-consuming daily tasks that are essential to real estate success in an easy-to-use package that's designed with agents in mind. The right real estate CRM integrates automation with many other handy tools that help you manage relationships, attract new clients, master your marketing, and save tons of time in the process.
How Automation Helps You Generate and Manage Leads
Lead generation and segmentation are two areas where automation really shines. The DeltaNET helps you generate more leads with tools like lead capture forms, tracked email marketing, and AI-driven email & print newsletters. Keep all of your leads in the know with auto-generated My HomeFinder, Market Watch, and Seller Reports. Then use convenient email templates or SMS text messaging to plan the perfect follow-up.
Lead segmentation is an essential task for saving time and increasing productivity, so automated lead segmentation will be a welcome addition to any agent's repertoire. With automated lead segmentation, agents can easily see where each lead stands, where to focus their energy, and what might be necessary to turn each lead into a client. That process is made even easier with interactive lead visibility, as well as robust tracking that makes it simple to anticipate their needs.
Attracting New Clients and Promoting Properties with Automation
Automation can also help you handle many key marketing tasks, both in terms of attracting new clients and marketing properties for existing clients. Email marketing is one of the biggest areas where automation can save you time, with tools like our smart drip email campaigns that make it easy to send the right email marketing to the right people at the right time. When your outreach calls for a more personal touch, customizable eCards and Flyers provide the perfect supplement to automation.
For marketing properties, our Properties in Motion platform automatically pulls information from MLS, and automatically feeds videos to your real estate website and Facebook page. You can also use the integrated texting platform to text new listings, price changes, and open houses to clients.
How Automation Helps You Handle Success
One reality of real estate is that success creates more work. More leads to manage, more clients to serve, more properties to market, and more administrative tasks to keep the whole machine running at peak efficiency. Expecting your existing team to simply handle all of that extra work is sure to lead to burnout, unhappy team members, and likely diminished production. Hiring more people is one way to handle that extra workload, but comes with its own risks, costs, and time commitments.
Automation is one of the tools that can help your team — or you as an individual agent — continue to thrive as your brand grows. It can cut down on the need for extra hires, make life easier for your team, and simplify the process of scaling your business over time.
Are You Ready to Experience the Benefits of Automation First-Hand?
In the fast-paced world of real estate, working smart is just as important as working hard — and automation can help you do both. In the end, the biggest benefit of automation is that it leaves you with more time to focus on the tasks that matter most and that you enjoy most. With software handling tedious, time-consuming tasks in the background, you can invest all of your time on the many parts of real estate that still require the human element.