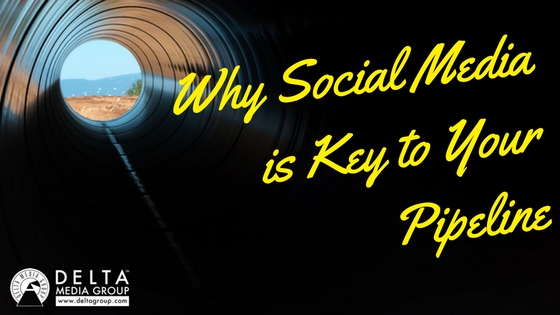 While there are many modern marketing tools that can help grow your real estate business, there's no doubt that social media is one of the biggest keys to real estate marketing success. No matter your marketing budget, target audience, or preferred marketing tactics, there's a social site out there that can help grow our real estate business. Still need convincing? Let's take a closer look at why social media is key to keeping your pipeline full, and your clients engaged.
Why Social Media Is Key to Keeping Your Pipeline Full and Your Clients Engaged
The most popular real estate social media sites—like Facebook, Twitter, Pinterest, and Instagram—offer large, diverse audiences, along with the tools you need to hone in on the targets that matter most to your business. By building a presence on the most popular social networks, you can build brand awareness, earn new business, and keep your pipeline running stronger than ever before.
Find Your Target Audience – Don't just fill your pipeline, keep it stocked with the type of prospects who are most likely to become clients of your real estate business. Facebook, especially, provides a ton of tools to help your posts or social ads find the right audience, and land qualified leads. You can even target people in your area who are considered "likely to move" based on the algorithms of websites like Facebook.


Connect through Content – Whether you like to create real estate blog posts, shoot photos of your favorite communities, or develop unique video content, there is a social site that will help you showcase what you have to offer. Many social networks are very visual in nature, so sites like Instagram can be a great place to share all of your photo and video content.


Increase Awareness – All of your social media activities help you increase brand awareness for your real estate business, and build relationships with potential clients. By integrating local keyword phrases into your social media posts, you can make it easier for clients from your area—or people looking to move there—to find what your real estate business has to offer. Posting testimonials from satisfied customers is another great way to showcase what you have to offer.


Create Engagement – The ultimate goal of social is to generate the sort of relationships that earn you qualified leads, so engagement is naturally an important part of filling your pipeline. You'll want to be ready to both reach out yourself, and respond when prospects comment on the content you share. Every interaction on social is a chance to show clients what you have to offer, and even people who aren't involved in the conversation first-hand will be able to see how you handle public interactions on social sites.


Stay Top of Mind – Not every prospect is at the point in the process where they feel that they need a real estate agent, especially if they're not ready to buy or sell in the near future. In those situations, you can still use social to keep those prospects in your pipeline. Look for excuses to reach out, find common ground for conversations, and use your content to remind prospects why you're the best choice when the time is right.
Ready to work with a team that understands the value of social media, and the tactics you need to keep your pipeline full? Contact us at Delta Media Group to learn more about social media, and all of our real estate marketing services.