Connect with Your Clients By Texting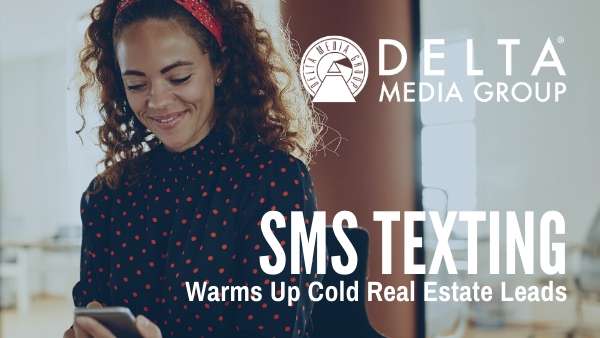 The real estate industry is changing, and so are the needs of clients.
These days, people want speed and convenience. Providing rapid, responsive service is crucial for top-notch customer service. One of the best tools for growing rapport is something you probably use daily but might not have applied to your business just yet.
It's SMS Texting.
Texting is fast and easy, creating a seamless experience where leads are much more likely to respond to you. At the same time, it's a uniquely personal approach: People are used to texting with family and friends, so it's no surprise they are more willing to open up.
Today, the majority of your leads are experienced text users. Statistics show people read 90% of text messages within three minutes of receiving them, and those same messages have a 98% open rate. 
And 75% of leads are willing to receive texts from you (after they opt-in, of course!)
SMS represents a new frontier in real estate marketing. You have the opportunity to deliver your expertise with the personal touch that builds long-lasting relationships. The question is simple: How can you make the most of SMS texting in lead generation?
Here's how real estate professionals are warming up leads through text:
Personalize Each Message
Start off right – use the lead's first name, just as you would in an email, and introduce yourself. If you forget to mention who you are, leads might mistake you for a spammer. Once you've gotten a response to at least one message, you're golden.
Text Quickly Whenever Possible
The best time to text someone is immediately after they opt-in: Within five minutes, ideally. This way, they're primed to connect their opt-in and your message in their mind: They are interested in what you have to say, so they might take time out to answer you.
Always Ask a Question
Nobody likes the feeling of being "talked at." Asking a question counteracts that feeling fast. By soliciting information right away, you're showing an early commitment to a relationship, not just a transaction. Most leads will fire off a quick answer to be polite.
Find the Right Tone
"Casual and conversational" is the name of the game in text. We've all experienced the "business email effect," where we dissect an email from every angle wondering if it's just right. Stay out of that trap on SMS by being yourself, complete with emojis, contractions ... or whatever!
Keep It Short
The shorter your message is, the easier it'll be to read and respond to. Try to put only one or two distinct pieces of new information in every message. Longer messages tend to get put off until the recipient "has time to think," and other priorities easily take over.
Use Marketing Automation
Once you've gotten a feel for SMS texting, it's time to introduce it to your automation strategy. Automation lets you send personalized, event-based text messages to specific segments of your list, so you can nurture lead relationships while spending less time reinventing the wheel.
Follow Up
Even if you do everything right, you might not get a response to your first text. That's okay! Send a second text within 15-20 minutes, then let it go for a day. A second follow-up can take the form of an email or call, but be persistent!
DeltaNET 6 CRM clients capture more leads and grow their businesses with the new agent functionality included in the platform. Contact us to see what our integrated SMS text messaging feature can do for your business.