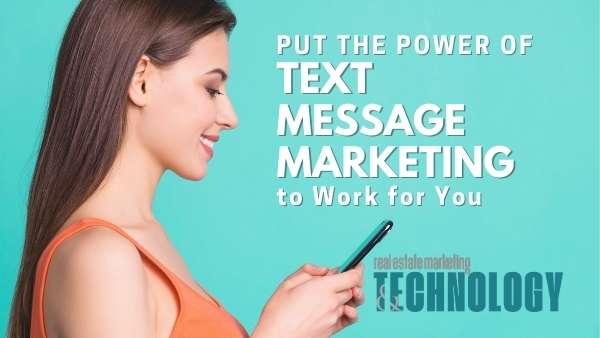 As you read this story, four out of five Americans own a smartphone. Include in that number those folks who use phones that aren't app-friendly, and you get 96%.
It's a sure bet nearly everyone who needs your real estate services also uses a mobile phone daily. And although not all phones can play Angry Birds, virtually all are designed to receive text messages.
Formally called SMS text––the acronym stands for Short Message Service, text messaging has exploded in popularity over the last decade. And texting isn't just for teens any longer.
During 2017, experts estimated that about 26 billion text messages were sent each day in the United States. That adds up to over 780 billion texts monthly and more than 9.3 trillion every year.
People of all ages use text messages. Because they will often text with friends and loved ones instead of calling, texters are likely to check their messages within minutes of a new notification.
Sure, there are some caveats. Most people aren't checking texts in the middle of a meeting at work––we hope. All in all, though, mobile research firm MobileSquared says 90% of people read a new text within three minutes of getting it. Three minutes!
Not surprisingly, this means text messages rock for real estate professionals. In a report published by the National Association of REALTORS®, 94% of REALTORS® said the method they preferred to communicate with clients was text messaging.
In 2020, there are huge horizons for growth. And there are plenty of good reasons why you should take advantage of text messaging for your real estate business.

Stop Calling, Start Texting
If someone reaches out to you on your website, calling them right away makes good business sense. Calling a prospect back within five minutes is estimated to increase your chances of a successful contact by a factor of 100x.
After all, they are expecting it. And the faster you are, the more impressive it is!
But what about all those times when a prospect or lead isn't interested in a call? An unwanted phone call is about as interruptive as it gets. It's exactly what people think of when they think of pushy, unwanted sales behavior. On the other hand, people willingly look to text messaging when they want to communicate––but don't want to stop their whole day to do it.
With that in mind, text messaging is a phenomenal way to stay in touch.
From the sales associate's perspective, texting makes plenty of sense.
Texting is extremely cost-effective. Compared to virtually any other marketing technique you can name, you'll pay fractions of pennies for your text messages. You can customize texts and even automate the process based on each prospect's interests and past behavior.
That means texting gives you a superpower all associates should have: Personalization.
From email to social media and everything else in between, effective digital marketing thrives on personalization. Every communication should be relevant, friendly, and helpful.
Text messaging makes it easy: Your messages arrive when your prospect is most likely to see them and contain only information useful to that person––without having to do it all by hand.
But there is one caveat before you begin.
Understanding The Ins and Outs of Opting Out
Are you using your real estate website to turn prospects into leads? You should be! The odds are good you're already collecting some information about your prospects as they use your site. You may even already have an email subscriber list. Just as you can't send emails to people without their consent, you also need to be sure they affirmatively opt into texts.
Rules about this are much more strict in Europe, but the U.S. is catching up. America's most comprehensive data privacy rules recently went live in California, and other states are following.
So, whenever you collect phone numbers, be sure you set expectations upfront. Forms should never come with an "accept text messages" box pre-ticked, and your text should let subscribers know how often they can expect to hear from you before they commit.
Likewise, anyone on your list should be able to withdraw consent at any time by texting back. Sending unwanted texts after an unsubscribe request could expose you to fines.
Luckily, many of these issues are automated for you with the right software.

How to Use Text Messages to Convert More Leads
Texting has a tremendous amount of potential. But how do you tap into it?
Luckily, there are a few powerful formulas for effective real estate text messages:
Text Important Property Listings and Updates
In 2017, the National Association of REALTORS® found that 62% of all buyers prefer having property info sent to them via text message. You can start this process even before you speak to a prospect, based on the listings they've spent the most time on while browsing your website. Once the relationship develops, a text is a great way to send leads about a weekly spotlight property.
Start New Conversations With a Question
It's important to talk with prospects, not at them. Text messages should provide an opening for conversation––and a question is very difficult to ignore. Keep it short, simple, and personalized: "What's the #1 thing you're looking for in a home, Bob?" will get Bob thinking about his ideal next home and give you details to start narrowing down his interests.
Follow Up From Live Events Like Open Houses
Open house attendees are active leads, but they can still take months to make a decision. Follow up with your event attendees by text – right away and again if you don't hear from them in three to five days. The property they saw might not have inspired them, but the text can keep the fires burning. If they're still interested, roll out those property listings!
Rekindle Cold Leads with Follow-Up Texts
Since it only takes a few seconds to read and respond to a text, most people don't mind getting them even if they've fallen off the radar. Again, a question works well: "Hi, Joan. Are you still interested in a home here in Walnut Creek?" In most cases, the worst thing that can happen is nothing at all. But now and then, you could open the way to another great sale.
A Quick Text Can Move Mountains
In a service-oriented field like real estate, the key to marketing is to be where the customers are. It only takes a quick look around at a store or restaurant to see most of them are on their phones!
Phones are now an intimate part of our lives, shaping our daily experiences. And even the most important professional relationships, like yours with your clients, can start and develop there.
Sure, you won't do all your marketing by text message. But it is a powerful way to expand your presence and augment the other marketing you do on your website and in person.
In real estate marketing, the right emoji at the right time can be worth a thousand words!
---
Not getting your copy of Delta Media Group's magazine, Real Estate Marketing & Technology?
Sign up today. Your subscription is FREE.