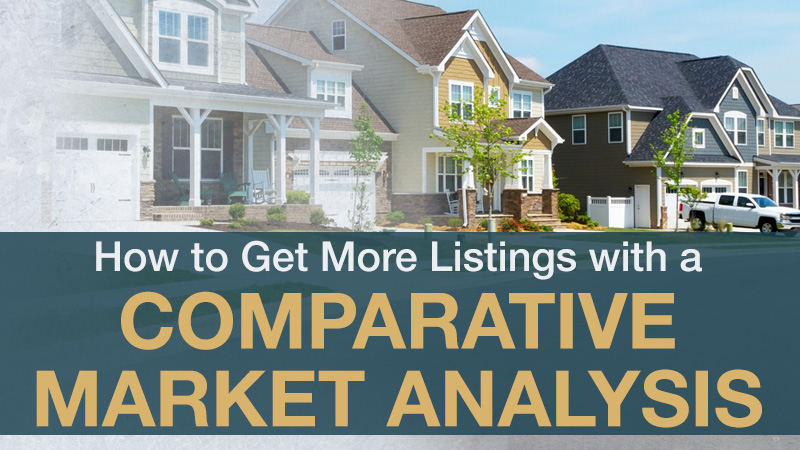 When discussing marketing for real estate agents, a lot of attention is given to attracting leads. Once your leads convert into customers, however, you still need robust resources to help them meet their goals. Along the way, you also build their confidence by demonstrating your local expertise.
One piece of content that appeals to both leads and customers is the comparative market analysis.
A comparative market analysis (or CMA) is a decision-making tool that helps sellers position their homes to sell at a favorable price and on a timeframe that makes sense. It enables you to determine an optimal price range for a property based on recent sales of similar homes in the area.
The average seller is prone to over-value a home. The longer they have lived there, the more likely it is they will calculate sentimental value into their price without even realizing it. A comparative market analysis helps you make a fact-based case for a particular price while defusing an emotionally charged situation.
The Advantages of Comparative Market Analysis in Marketing for Real Estate Agents
At first, the CMA might seem to be a bit too technical for clients. When you dig deeper, however, you learn that its advantages translate directly to a faster and smoother transaction. Plus, it shows your brand is committed to the highest level of quality and customer care.
A CMA confers unique benefits for your sellers:
They Are More Likely to Sell Within 30 Days


When a home's price is informed by a CMA, it will be priced competitively with other homes in the market. This attracts attention from a greater range of buyers and makes it far more likely the property will sell promptly. A home that languishes for 60 or 90 days is at a major disadvantage, and the CMA helps prevent that.

They Are More Likely to Sell at a Higher Price


The biggest risk of sellers "following their gut" when they price a home is that they may price themselves out of the market. Sellers operate on just a handful of data points – for example, a friend with a home they consider similar may have sold recently for X amount – but the CMA puts all the relevant facts in context.

They Feel Better About the Process


Some sellers will object strenuously if they feel you are not pricing the home the way they would. A few may even think you're simply trying to make the sale easier for you. The CMA is a way of demonstrating to clients that a proven record of sales stands behind your advice, which helps them start to let go of the home.
Three Ways to Improve Marketing for Real Estate Agents with Comparative Market Analysis
A comparative market analysis can appeal to motivated sellers at several points in the customer journey.
Here are some ways real estate agents and brokerages have had success with CMAs:
Use Them as a Lead Magnet to Win More Email Subscribers


Email is is one of the most cost-effective tools in marketing for real estate agents because subscribers are more likely to stick with you for the weeks and months it may take to jump into the market. A CMA is a tempting way to show would-be sellers that great opportunities await them if they act sooner rather than later.

Offer Them to Attendees of Your Open Houses


Many open house attendees will need to sell their own home either before or in the process of buying a new one. The thought of managing both processes can seem overwhelming, which may delay a decision. With a CMA in hand, sellers have less uncertainty to deal with and are more likely to move forward.

Provide Them to Confirmed Customers at Your First Meeting


Once you have an agreement in place with a seller, a CMA should be in their hands as soon as possible. Walking through the CMA and what it means for their selling goals can be a big focus of your first meeting. That way, sellers can end the day with clarity about their listing and the price they can reasonably expect.
Creating Your Branded Comparative Market Analysis
Creating an accurate comparative market analysis has long been a complex, time-consuming task. Delta Media Group empowers you to show the same virtuoso level of local knowledge in one click through our DeltaNET Market Watch Reports. These branded, informative reports can be sent instantly to buyers or sellers.
As a DeltaNET customer, you also have access to Open House Connector. It allows you to quickly capture vital information fromopen house attendees and add it seamlessly into our secure, all-in-one Customer Relationship Management platform. Reports can also be distributed through our automated email drip campaigns.
To learn more or get started, contact Delta Media Group today.