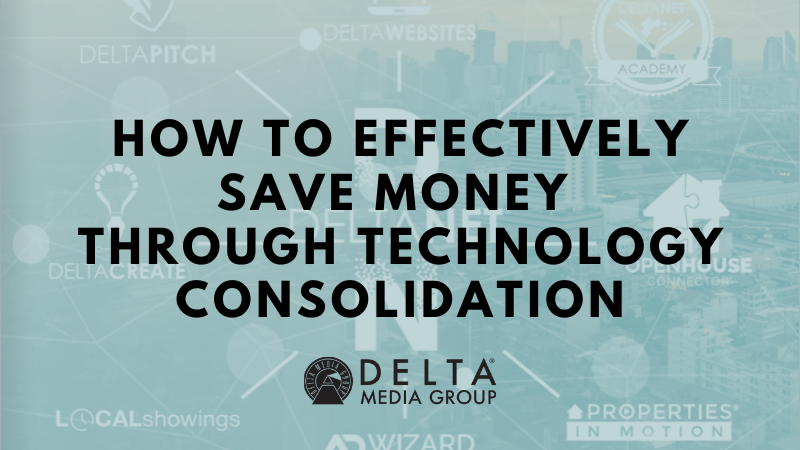 With the economy on the brink of a potential recession and headwinds heading our way, now is as good of a time as any to evaluate how you can save money in your budget for 2022 and start planning for 2023. Some of the biggest expenses real estate brokerages face are with their online technology and digital marketing. With more than seven years of experience helping real estate firms consolidate their technology budgets, I'd like to share my experience on where to start this process.
First and foremost: recognize where you still need to spend. The worst thing you can do when evaluating where to make cuts is jeopardize your future growth. I have always been fond of the analogy: stepping over a dollar to chase pennies. I have seen brokerages make one huge mistake over and over again when looking to save money quickly. That mistake: cutting SEO/digital marketing expenses.
One area where Delta Media Group® specializes is search engine optimization. SEO is the most cost-effective long-term strategy to keep your brand visible in search engines and generate qualified leads online. Many brokerages fail to realize that SEO is not a silver bullet that grants immediate results. It typically takes three-to-six months to get an effective SEO campaign started. Think of it as getting a snowball ready and starting to push it down a hill. Once the ball rolls downhill, it accumulates more snow and gets bigger and bigger. SEO is the same way; the longer you do it correctly, the more Google rewards your domain and begins to feature it more often in the search results.
The problem that many brokerages don't realize is that you can't just stop doing SEO and expect those results to stay the same. If you've been conducting an effective SEO strategy for years and believe you can simply stop that spending without impacting your results and lead generation, you would be dead wrong. As I said, SEO is like a snowball, and the longer you do it effectively, the better your rewards will be in traffic and leads. Once you stop doing SEO effectively, Google is quick to slow down their crawling of your site, impacting site visibility, traffic, and leads. We have seen time and time again companies who spent tens of thousands of dollars for years on SEO simply stop doing it to tighten up budgets. Once that decision is made, the website domain loses all the traction they've spent years earning in as quickly as one month.
One example, I recently saw a brokerage of ours that was on our platform for more than five years. This company had tens of thousands of pages indexed in Google (which effectively means those were all pages Google had crawled and ranked, allowing people to find their website domain through Google's search engine). Within 30 days of stopping SEO services, their number of pages in Google's index had dropped to less than 3,600 pages. That is an 86% decrease in site visibility. For this particular brokerage, more than 60% of all leads generated on their website were attributed to organic traffic through SEO. This is a massive blow to the new listing and buyer lead opportunities that will no longer hit their site.
Another example is a brokerage partner of ours who ceased SEO in 2019. In early 2021 he shared with me that he could directly track more than $400,000 in lost GCI that he would've had if he had continued his SEO spend with us. He lost more than $400,000 in an effort to save money (his total spend was $2,000/month). I would spend $24,000 to make $400,000 every day of the week. This is a prime example of stepping over a dollar to chase pennies.
Another area you absolutely need to keep in mind when figuring out which expenses to keep versus cut is your CRM/online advertising. One of the first things I do when consulting with real estate brokerages to either make a switch to our platform or evaluate their existing package with us is to run a usage report to find out which tools are actually being used by their agents. Finding out which tools are being used versus which are not is the first step in recognizing what to cut or keep.
A major trend I'm seeing more and more in the real estate world is brokerages choosing what technology services to provide for their agents versus which tools the agents should be paying for themselves. For example, you may want to provide every single agent in your organization with a website + CRM solution. You can do that fairly affordably, but it may not make sense for your organization to provide every agent with a full suite of marketing tools that less than 30% of them use daily. There are options and packages available on the market today that would allow a brokerage to provide agents with a baseline technology package. It would also allow the agents to enter their own credit cards to purchase these additional technology services/offerings for themselves. The brokerage saves money, and the agents, who actually want to use these tools, can pay for it themselves. In this model, many brokerages will provide their top producers with the technology stack for free based on production.
Now let's talk about where to start looking to consolidate. I'll be the first to challenge the industry consultants who are continuing to push brokerages more and more towards a "best in class" type technology stack where companies are going out and purchasing premium products that are really just a feature. I believe some brokerages in the real estate vertical have been steered down a dangerous path over the last two years out of fear that has been conjured up by industry consultants looking to get as many technology vendors integrated with a real estate brokerage as possible. You don't need five different companies implemented to service your CRM, email marketing, website, property search, or listing notifications. It's an exorbitant expense to try and get five different vendors integrated and working together to do the work that any all-in-one platform could accomplish for a fraction of the price.
I will say it again. The all-in-one technology model is by far the most effective way to get a polished technology platform that will do everything you need it to do. The reality is technology platforms like the DeltaNET® can be both all-in-one and best in class. I know many brokerages fear "putting all the eggs in one basket" due to major technology acquisitions in the last decade. Look at Booj's acquisition by Re/Max, Compass acquiring Contactually, or, more recently, Propertybase getting acquired by LoneWolf. The simple fact of the matter is there are truly independent technology providers in the marketplace that have survived economic uncertainty and even have a guarantee to remain independent. In every Delta Media Group contract, there is a guarantee that CEO Michael Minard will remain the sole owner and operator of Delta, with protections for our clients that we will not sell.
Particularly in the last two years, I have seen many technology vendors enter the marketplace that do "just one thing really well." Premium email marketing companies or premium CRM services that charge an extremely high per-user fee should be some of the first vendors you evaluate cutting when looking to shore up budgets. Why spend $40/month for a stand-alone CRM product when other services on the marketplace can accomplish nearly the exact same functionality for a fraction of the cost? I have seen direct examples of brokerages that are spending more than $150 per agent per month on technology solutions that could be provided in an all-in-one platform like the DeltaNET for less than $30 per user per month.
It's not just CRM services, either. True "all-in-one" providers should be able to give you everything your business needs to run effectively. For example, you may not need to pay for a stand-alone "Automated Valuation Service" to be integrated into your website. For some companies, it's a product to sell. For true all-in-one providers like Delta Media Group, it's simply a feature built into our website services.
Another example of an area to look at when consolidating is CMA products. While many boards across the country offer a free CMA product included in their dues, there are also many markets where agencies are forced to go out and purchase their own CMA products. True all-in-one providers offer that as a feature of their services. We recently launched Delta Pitch, which is marketed as the industry's easiest-to-use CMA builder on the market. Customers on digital marketing packages with Delta Media Group received this CMA builder as a free add-on to their services, allowing them to save money by cutting other third-party CMA products.
One of the biggest expenses brokerages face is social media content. Making their brand and their agents look good on social media isn't cheap. There are entire companies whose sole focus is curating real estate content and publishing it to social channels. Within the DeltaNET, our brokerage partners receive automated social media postings to all their social channels included in our all-in-one package. It's not only "just listed" or "just sold" content, either. Our digital marketing team adds more than a dozen articles to our "My Customer for Life" newsletter platform each month. That content includes buyer, seller, and home improvement articles, which can automatically be shared to all of your agent's social media accounts. This is true content running to their channels at no additional expense.
Other areas to look at are open house management apps, learning management systems, automated listing videos/virtual tours, and enterprise file storage platforms. Within our all-in-one environment, we feature built-in services like Open House Connector, DeltaNET Academy, Properties in Motion, and Cloud Delta, all as integrated services bundled in with our digital marketing packages to save our customers money. If you were to piecemeal just these services, you would be spending more than $60 per user just for these four products. With an all-in-one provider, you get all of that and more.
The final area I want to highlight is paid advertising strategies. In our decades of experience with online advertising, we have seen brokerages with budgets over $400,000/year for online ads. While Pay Per Click and social media advertising spending are certainly effective, they often aren't accomplishing quite as much as you'd think. While I certainly don't advocate cutting your paid online spending entirely, I would challenge you to consider where you spend your money for online ads. Spending $2,500 on Facebook Ads versus Google Pay Per Click advertising will yield entirely different results. In our experience, social advertising will greatly boost the total number of visitors to your site; however, it will have a minimal impact on lead generation.
On the other hand, spending that money on Google PPC will yield much less traffic to the site, but you're likely to generate significantly more leads. These leads will not be as qualified as organic traffic from SEO efforts; however, they are still leads nonetheless. If the goal is more brand impressions, then social advertising is the way to go. If the goal is immediate lead generation, you're better off spending the money on PPC. If the goal is a long-term quality lead strategy, you're better off putting that budget into SEO. Clients on our platform typically see an average cost per lead of $2.00-$10.00 from SEO strategies, while you may see an average of $20-$30 per paid lead with PPC strategies.
If you're looking for help or want to know how to analyze the technology products your brokerage has in place and consolidate those services to save money, please reach out to me through sales@deltagroup.com or give us a call at 866-233-9833.